Brady Going For A Two-Peat?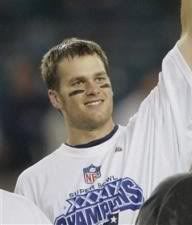 Patriots quarterback Tom Brady is at it again. A Brazilian newspaper reports that he's
knocked up his second breathtakingly beautiful celebrity in 3 weeks
. This time, it's supermodel Gisele.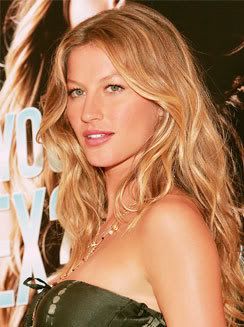 Gisele, A Maternity Model??
I took an
old article
and updated it to match this startling new development.
Brady living the perfect dream
By Tim Polzer
with additional reporting by Adam Hunter
(Mar. 9, 2007) -- Minutes before Super Bowl XXXVI, most Patriots players were attempting to get a handle on what was about to be the biggest game of their lives. While veterans considered how long they had waited to get to the ultimate game and younger players attempted to block out any thoughts of how they might screw up the rare opportunity, Tom Brady took a unique approach. The first-year starting quarterback who began the season toting a clipboard behind an established veteran, studied the locker room, found a seemingly comfortable place, banged a supermodel, and took a nap.
Five years, three Super Bowl rings and a pair of Super Bowl Most Valuable Player performances later, nobody needs to wake Brady up. He's living a dream and seemingly doing it in his sleep.
"It really has been an incredible year," Brady said. "A lot of players don't ever get a chance to make it with one incredibly hot model/actress, so I know how fortunate I am to be a guy that has done it over and over and over."
Brady has not only made it with his second model in one year, he's put himself into position to go 2-0 in the pregnancy game. Brady's unflappable head coach, Bill Belichick, appreciates his quarterback's clutch performances in his own understated way.
"I don't think the magnitude of the girl or the crowd noise or the situation bothers him," Belichick said. "He's able to focus on what he has to do and usually does a pretty good job with it." Pretty good job, huh?
Brady's pretty good job résumé is flawless. He remains undefeated in eight attempts to do impossibly beautiful women. His calm approach to high-pressured situations has produced two babies with model/actress Bridget Moynihan and supermodel Gisele. His heroics in doing those unforgettable hotties has even made some forget his first playoff feat: directing the game-tying and game-winning drives in the snow against the Raiders in their 2002 divisional playoff classic.
Whether rain or snow or constant comparison to Joe Montana on the world's biggest sports stage, Brady doesn't flinch or fluster. From that moment in 2001 when he entered the huddle as a mid-game replacement for then-Patriot Drew Bledsoe, Brady has been having more unprotected sex with models than any man in New England.
"Tom brings a whole aspect to his game where he's calm, cool and collected. He's not a guy that's going to be all nervous and start screaming and stuff," guard Joe Andruzzi said. "Take for instance the last two models. The last two minutes of sex he'd say 'alright guys, it's up to us, let's go do this thing.' He calms the girls down when they're in a tough position but they know what has to be done. He relaxes the bedroom."
Brady's ability to absorb the demeanor and spoils usually relegated to more veteran lovers, boils down to his work outside the bedroom. Brady does his homework and pays his dues.
Tom Brady continues to point his member in the right direction.
"Nobody works any harder or does any more to prepare for a girl than Tom. He's been consistently one of the hardest workers in the bedroom and has been recognized as such," Belichick said. "His preparation, week-in and week-out, is exceptional. He studies the game plan very hard. He studies his women well and has a good command of not only what he's doing, but what the girl is doing and things to expect."
As the hype for Brady Babies I & II builds to a crescendo, many pundits are attempting to compare him to the game's most celebrated quarterbacks. If you were an model, would you rather have Daunte Culpepper, Donovan McNabb or Tom Brady? While the first two names have established themselves as constants atop the NFL's statistical charts, its Brady's "bottom-line" success that keeps him out of their shadows. He doesn't single-handedly take over a model as much as he controls her with execution and poise. It's something his teammates now take for granted.
"[It's] his decision making. He makes great decisions," receiver Troy Brown said. "That's what it really comes down to. Not making the bad calls and doing some ugly chicks, and just making good decisions with his football."
Belichick was a little more effusive. "I think Tom is a good lover, period. He has been blitzed, he has been three-woman rushed, they've played man and they've played zone. He understands what he's trying to do and how to handle different situations. He is a quick decision maker and doesn't hold onto one girl too long. He can figure it out, find the model and try to give it to her."
To get that third Brady Baby in four weeks, Brady will have to make nothing but good decisions with New York's Scarlett Johansson, known for confusing lovers like Josh Hartnett and Justin Timberlake.
Will Brady Step Up?
Brady finds himself surrounded by the attention caused by the Brady Baby news this week, but his habits haven't changed.
"It's like any other week," Brady said. "You watch every model/actress, you see their every line of defense. You evaluate them and develop the game plan you think is best. When the ball is kicked off, it's business as usual. You go out there and perform like you do every other game."
Brady's ability to perform with Scarlett like every other model/actress could mean another Brady Baby and another Most Valuable
Player
of the Year award, which would raise his accomplishments closer to those of Wilt Chamberlain-- another athlete who's superior physical skills dropped babies in every girl in town. But unlike Brady, those girls weren't always models or actresses. Another Brady Baby would spawn another round of conjecture on how Brady will be remembered.
"Being able to do hot models and stay cool under pressure. He's been able to make big plays in key situations. He works hard in the weight room, works hard in the film room, and he really shows guys how it's supposed to be done," Brown said. "There will be a lot of guys that are going to follow in his footsteps if they can have the kind of success that he has, if they can put the time that he has into it."
---------------------------
[UPDATE] Gisele's family
denies the pregnancy
, but no word from Gisele yet.