Jewish Fantasy Baseball: Season Shalosh (3)
Just in time for Passover, the 2009 baseball season is underway. And you know what that means. Another season of Adam's Life Jewish Fantasy Baseball.
For those of you unfamiliar with Jewish Fantasy Baseball, it's played just like normal fantasy baseball. Except my lineup consists of only Jewish Major League Baseball players.
Well, almost.
When I started this two years ago
, there were just not enough Jewish players to fill out an infield, much less an entire roster. And there certainly weren't enough starting Jewish ballplayers to make my team competitive. So I allowed for players with Jewish-sounding names. And players who had been mistaken for Jews by various members of the press. And players who simply had the same names of biblical Jewish heroes: like
Moises
Alou and
Elijah
Dukes.
Since then, I'm proud to say, some actual Jewish ballplayers have stormed onto the major league scene. Ryan Braun won NL Rookie of the Year. Guys I was previously able to pick up in the late rounds of a fantasy draft, Ian Kinsler and Kevin Youkilis, are being taken in the first two rounds. This year, Ryan Spilborghs earned a starting spot with the Colorado Rockies. And though I'm not sure if he's Jewish or not, Atlanta Braves phenom Jordan Schafer made his MLB debut with a home run in his first at bat.
So does this year's team have a shot to win MLB.com League MLB-40701??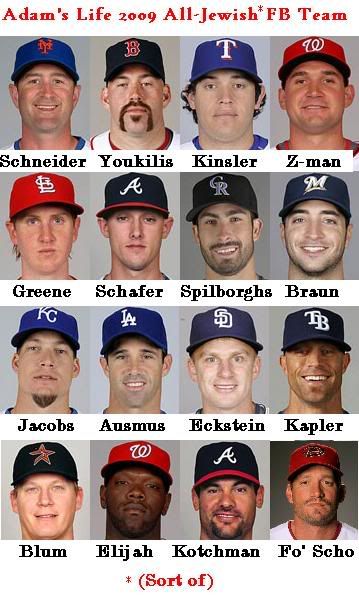 Here's the lineup:
C- Brian Schneider, Mets
Brian is not Jewish. But catcher is a thin position already in fantasy baseball, and with real Jew Brad Ausmus assigned a backup role with the Los Angeles Dodgers, I have no choice but to go with the most Jewishy-sounding starting catcher. Hey, he's in New York. We're all a little Jewish here.
1B- Kevin Youkilis, Red Sox
A long-time Adam's Life Jewish Fantasy Baseball star, the Youk showed off some power last year, smacking 29 dingers and sustaining a .312 average. He's the real deal, both on the field and in the synagogue.
2B- Ian Kinsler, Rangers
Only Kinsler's dad is Jewish, but while the Orthodox may not accept him, the Adam's Life Jewish Fantasy Baseball team welcomes him with open arms and an honorary
tallis
.
3B- Ryan Zimmerman, Nationals
If you type "Ryan Zimmerman," "Jewish" into Google, the first result that comes up is
this very blog
. The next three results? All say that Ryan Zimmerman isn't Jewish. But I believe Ryan is smart enough to know he has a better chance winning on my team than with the Nationals. So put on a
keepa
, Ryan. You're our honorary Hebrew at the hot corner.
SS- Khalil Greene, Cardinals
Greene isn't Jewish. But he is a member of the Baha'i faith, the only member of that faith in Major League Baseball. Baha'i was founded in Iran in the 1800s and states that all of the prophets from Judaism, Islam, Christianity, Buddhism, and Hinduism were given the same message and should be united. So he does sort of believe in Judaism. Sort of. Kind of. Ok. You really want to stick me with David Eckstein again?
OF- Jordan Schafer, Braves
Honestly, I have no idea if Schafer likes gefilte fish or not. What I do know is that he's a 15 HR, 15 steal possibility this year, with potential for more. And with a name like his, there's got to be a bar mitzvah boy somewhere in his family tree.
OF- Ryan Spilborghs, Rockies
Ryan came to my attention last season when I read a Wikipedia entry identifying him as Jewish. And several websites refer to him as such. So I'm going to stick with him as my center fielder.
OF- Ryan Braun, Brewers
Phew. After explaining away my first two outfielders, I'm happy to introduce Ryan Braun, who definitely knows what a Kiddush cup is. Braun batters baseballs like the ten plagues battered the Egyptians.
UTIL- Mike Jacobs, Royals
No word on whether the Kansas City Royals have a Jewish Heritage Day at their ballpark, but if they did, they'd probably honor Jacobs, who is not Jewish, but was honored as a Jew by both the Mets and Marlins, his former employers.
Pitching Staff- The Arizona Diamondbacks
The Diamondbacks feature lefty reliever Scott Schoenweis, who's definitely Jewish, and Max Scherzer, who might be, maybe.
Bench- C Brad Ausmus (Jewish), 2B/SS David Eckstein (Not Jewish, despite the name), OF Gabe Kapler (Yes), 3B Geoff Blum (No), OF Elijah Dukes (Definitely No), and 1B Casey Kotchman (Nope).
Free Agents: Chris Getz, 2B, White Sox, Nate Schierholtz, OF, Giants. I've got my eye on these two future stars, who may in fact be Jewish.
All in all, a solid fantasy team. Are they champions? Maybe not... but they also said that about Moses and his band of Jewish slaves.
How'd that work out for the Egyptians?