Wait A Minute, Is That A Shofar At The World Cup??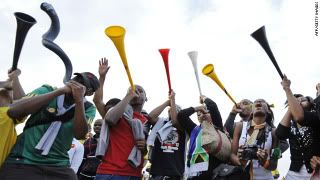 So I click on an
article about the vuvuzela
, the South African plastic trumpet that makes that beehive noise you hear on TV during the World Cup matches. And in the photo on CNN, what do I see?
Tekkiah!!!!
Either this guy's an African Jew, or he thought the shofar was just a fancy vuvuzela.
Which it kind of is.