Jewish Fantasy Baseball Team Update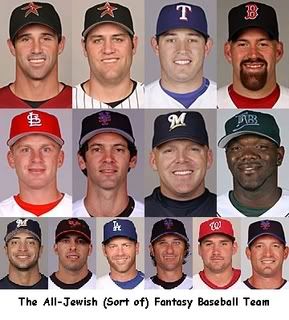 The All-Jewish Fantasy Baseball Team is now 1-0 on the season.
Led by Shawn Green's .320 AVG, 2B, HR, 5 R, 5 RBI, 4 BB and a SB, the Major League Jews mounted a come-from-behind rally to defeat an Atlanta-Braves-fan fantasy team, putting the hebrew heroes in a tie for 1st Place in the division.
Despite Green's big week, the 1st Adam's Life Sluggin' Semite of the Week Award goes to Brad Ausmus, who pleasantly defied expectations with a .438 AVG, a double, 4 runs, 3 BB, and a stolen base.