Jewish Fantasy Baseball Season Shalosh: Final Stretch Update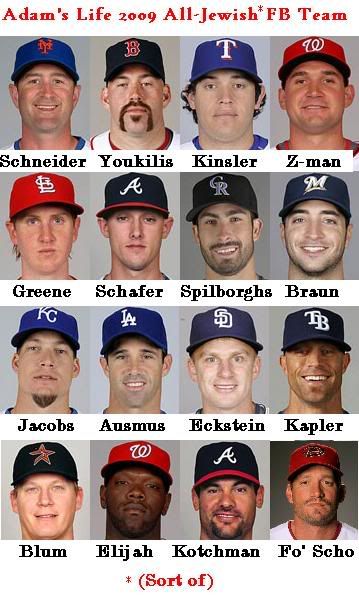 UPDATE: My Jewish Fantasy Baseball team has gotten some press. Appropriately,
Jewish press
.
We're heading into the final month of the fantasy baseball season next week, so I'd like to give an update on how
this year's Davids of the Diamond
have performed. The first year I made an all-Jewish fantasy baseball team, we won 3 games. The next year, we won 8. Will the 2009 Chosen Team improve upon that?
With four weeks to go, it's still possible. The Major League Jews are 6 - 14, good enough for 5th place in the six-team West division of MLB.com league 40701. I admit, I haven't followed as closely as in past years. The team actually started off 3 - 1, but nosedived quickly.. due to me leaving red-hot Jordan Schafer on the bench while Elijah Dukes put up weeks of zeros. Khalil Greene didn't help either. If only I had gone with Schafer/Schierholtz and Eckstein when I left the team on autopilot.
But a big victory last week, 160 - 137, ironically, over a team called "Mount Zion," keeps hope alive for a third straight year of improvement.
This season's biggest Jewish stars:
Ryan Braun: With a .313 average, 26 homers, 12 stolen bases and 89 RBIs, Brauny is punishing baseballs like Quentin Tarantino's
Inglorious Basterds
punishes nazis.
Ryan Zimmerman: He may not be Jewish, but he'd be welcome for any minyan with the way he's been hitting. A .301 average, 26 homers, and 85 RBIs shows that Hashem's written this guy in the book of life for a very good year.
Ian Kinsler: With 26 homeruns and 24 stolen bases, this mench is looking forward to a possible 30-30 season. Could a 40-40 season be in his future? There hasn't been one of those by a Jewish guy since Noah.
(yes, that was an attempted flood joke)
Kevin Youkilis: With a beard Morris Katz would no doubt enjoy painting, the Red Sox third baseman has been playing first for the Jew Crew, and contributing 22 homeruns to go along with a .307 average.
Brad Ausmus: He's tallied only 79 at bats this season as Russel Martin's backup, but from the way Martin has played (.258 4 HR), Ausmus should have been called up to the bemah more. Awesome Ausmus has been batting .304, with 1 HR on the year, and as the only Jewish catcher in the major leagues, that's not too shabby.
This week, the Kee-pa Kids take on the Chicago White Flames, who are 9 - 11 and led by vaguely Jewish-sounding Troy Tulowitzki. Be sure to wish them Mazel Tov.