Watch Bad Hockey, Get A Free Burrito
I did some searching for discount tickets on the NYU Ticket Central site, and came across this awesome deal for New York Islanders tickets: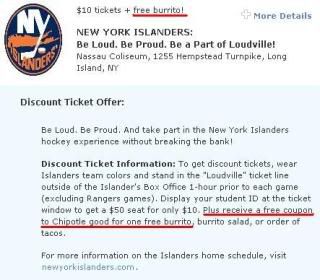 Yes, you heard right. Your prize for traveling to Long Island and standing in line wearing an Islander jersey is a free Chipotle Burrito.
Perhaps they're trying to co-opt Pittsburgh Penguins' coach Dan Bylsma's
pregame tradition
. Hey, it worked for the Penguins...
Of course, doing the math, all you're really getting out of this deal is a $10 burrito.
Full Disclosure: I'm a Devils fan:
That's Me Holding Up The Brodeur Jersey At His 552nd Win