New York City Wacky Japanese Gift Guide
The gift guide continues...
Those Japanese are really ahead of the curve. I mean, first, Nintendo. Then sushi. Then Tamagachi. Then Alyssa Milano and Jennifer Love Hewitt as major pop stars. Well, okay, maybe they don't know music. But they good know what looks good and is fun to play with. Us Americans struggle to keep up. Unless you shop at these stores below, beacons of Japanese brilliance shining through the concrete caverns of New York City:
The Store:
AC Gears
, 69 E. 8th St.
What You'll Find: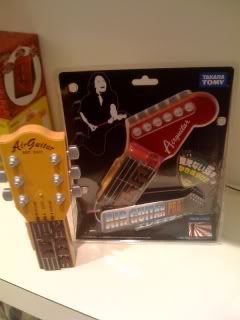 Takaratomy Air Guitar Pro Acoustic, $55.99.
Air guitarists everywhere now have an alternative to Guitar Hero and Rock Band.
Also look for:
Cool gadgets like the
Dreams DJ Speaker
, a keychain-sized device that allows you to DJ-scratch along with your iPod, cool accessories like
Angel and Devil Earphones
, and the most fun alarm clock you'll ever see, the Bandai Gun Oclock Alarm Clock:
The Store:
Kid Robot
, 118 Prince St.
What You'll Find: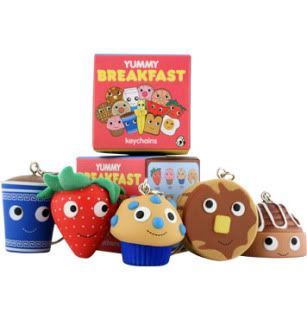 Yummy Breakfast Keychain, $4.95 ea.
Who doesn't want a smiling short-stack of pancakes holding their keys together?
Also look for:
Vinyl and metal figurines ranging from the dark and subversive (
Cannibal FunFair Figurines
) to the adorable and deplorable (cigarette-addicted
Smorkin` Labbits
).
The Store:
Giant Robot
, 437 E. 9th St.
What You'll Find:
Lie Detector Toy, $21.00.
Now you can tell if they
really
like their gift.
Also look for:
Unique stocking stuffers like the furry monster-shaped
Domokun Small Coin Purse
, Super Mario Brothers keychains. Also, er, the I'm-not-convinced-it's-innocent
Elite Banana Massager
, shaped like the fruit.