New York City Holiday Gift Guide: Sports and Dorks
Just a handful of places today, where you can find gifts for your sports fan or, er... anti-sports fan. Let's go NYU Bobcats!! Yes... its Bobcats. Not Violets. I swear.
The Store:
Steve & Barry's
, 100 W. 33rd St. (Manhattan Mall)
What You'll Find: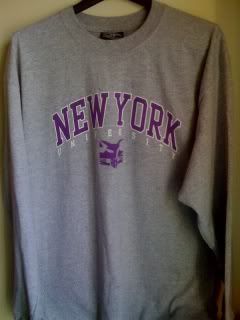 Long-Sleeve College T-Shirt, $4.00.
Help your friend or relative feel like a college kid again.
Also look for:
Steve and Barry's is going out of business, and the phrase "picked over" doesn't begin to describe the remaining items from their closing sale. But if you get there this week, there's still plenty of
Steve & Barry's fleeces
,
Laird Hamilton's "Wonderwall"
surf-clothing collection,
University of Michigan Varsity-Style Jackets
, and ridiculously cheap earrings and other accessories.
The Store:
Yankees Clubhouse Store
, 393 Fifth Ave.
What You'll Find:
New York Yankees vs Boston Red Sox Connect Four MLB Game, $19.99.
The only bad part about this gift? Someone ends up having to play as the Red Sox.
Also look for:
Yankees Jerseys and Caps
, a
Yankees Mr. Potato Head
doll.
The Store:
Paragon Sports
, 867 Broadway
What You'll Find:
Finis SwiMP3 V2 Player, $111.96.
For the swimmer who found out the hard way that iPods don't work underwater.
Also look for:
Every sporting good under the sun,
Custom Pocket Knives
, and some great lawn games, like the
Franklin Sports Spongebob All Sport Set
, which includes a pop up goal and soccer ball.
The Store:
Jewish Book Center of The Workman's Circle
, 45 E. 33rd St.
What You'll Find: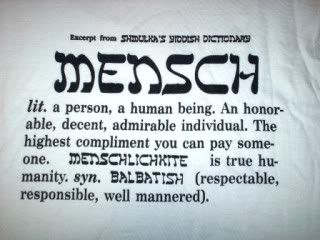 Mensch T-Shirt, $13.00.
For the mensch who has everything, except a T-Shirt printed with the definition of what a Mensch is.
Also look for:
Musical Dreidels
, books on Kabbalah, or Jewish Mysticism, and for aspiring Jewish Jocks, the
Shvitz! My Yiddishe Workout DVD
.
The Store:
Bauman Rare Books
, 535 Madison Ave.
What You'll Find:
Issac Asimov's Book Of Facts, Signed By The Author, $150.
The king of sci-fi for your sci-fi fan. As long as he doesn't mind that Asimov wrote in it.
Also look for:
A framed collection of
Beatles' Autographs
, rare first editions of books and manuscripts.
More gift guide to come. See the whole gift guide,
here
.