Friday Food Holiday Gift Guide
They say the quickest way to someone's heart is through their stomach (though as my doctor friends point out, it's quicker to make an incision in the breastplate.) In NYC, you can step it up a notch above a box of Godivas fairly easily and cheaply.
Just visit these places below:
The Store:
Fat Witch Bakery
, 75 9th Ave. (Chelsea Market)
What You'll Find:
Holiday Cauldron Special, $18.99.
One luscious, gooey, mmm Fat Witch brownie is $2.75... this collection has 7 Fat Witch Baby Brownies, 3 Blonde Babies and 3 Walnut Babies.
Also look for:
For do-it-yourselfers,
Fat Witch's Original Brownie Mix
.
The Store:
La Maison Du Chocolat
, 30 Rockefeller Center.
What You'll Find: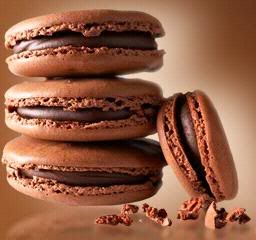 Chocolate Macaroon, $2.50 ea.
This isn't one of those dry, coconutty lumps for Passover... this is the best cookie they'll ever have in their life. Gift boxes with a variety of flavors are available.
Also look for:
Chocolate Covered Fruit
,
Tasse De Chocolat
-- dark chocolate beads, and, if you're in the store, a overdose-inducing cup of
Hot Chocolate
.
The Store:
Butter Lane
, 123 E. 7th St.
What You'll Find: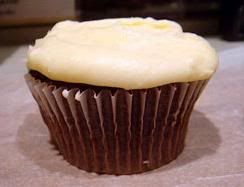 Chocolate Cupcake with French Vanilla Buttercream Icing,$2.50
. There's no way you'll want to wait in line at Magnolia, so try these cupcakes on for size.
Also look for:
A much-raved-about
Banana Cream Cheese
cupcake (which I was unfortunately not able to sample), a variety of
French buttercream
and
American buttercream
(the staff will explain the difference) cupcakes.
The Store:
Build A Green Bakery
, 223 First Ave.
What You'll Find: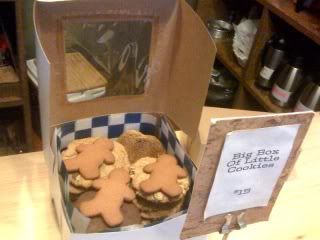 Big Box of Little Cookies, $15.00
. Size doesn't matter... with these cookies. Always fresh, they pack some big taste.
Also look for:
New York Chocolate Cheesecake
and
Peanut Butter Chocolate Cheesecake
, out this month, and their tasty
Blueberry Corn Muffins
.
The Store:
Dylan's Candy Bar
, 1011 Third Ave.
What You'll Find:
Dylan's Candy Bar Striped Scarf, $42.00.
I was gonna feature some candy here, then I saw this scarf with pockets. A scarf with pockets! I thought of that first.
Also look for:
Candy
. All kinds. Everything from a
Pez Elvis Gift Set
to
Chocolate Covered Peanuts in a Paint Can
. Yes, a Paint Can. Paint not included.