Finally Voting For A Winner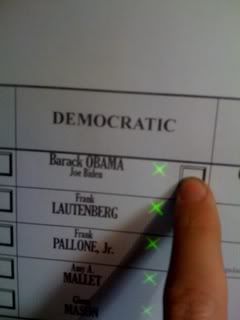 I can sleep well tonight knowing that finally, at long last, I've voted for the winning Presidential candidate.
My friend Jenny (
Jenny Jo Journalista
), who's covering the election for
Columbia (School of Journalism)
called me while in the crowd around the Apollo Theater in New York City. A madness of honking horns and joyful shouts. "Obama! Obama!" It was great to hear. I, on the other hand, enjoyed a quiet evening watching the results from the sleepy Republican suburbs of Monmouth County, NJ.
First the Giants win the Superbowl, now this. It's turning out to be a great year.