Jewish Fantasy Baseball: Weeks 7 & 8
Casey Kotchman and Geoff Blum Join The Lineup
It's been a rough two weeks for Team Tefillin. Week 7 saw JINO (Jew In Name Only) David Eckstein go on the disabled list, and Kevin Mench, filling the outfield temporarily after Elijah Dukes was let go, went 0-4. Twins fan "Bren-skees" won 212 points to... 72. However, Brad "Awesome" Ausmus gave Jewish fantasy baseball fans everywhere something to smile about, batting .526 with a double, homerun, four runs and six RBIs. Someone's been eatin' his matzoh ball soup.
Last week, recent squad convert Casey Kotchman was supposed to make his debut... but ended up out with a concussion when he was hit in the helmet by a pickoff throw from Dodgers catcher Russell Martin. While Ian Kinsler (42 points), Ryan Braun (38), and Lance Berkman (29) got the job done, they couldn't overcome the loss of Kotchman and a pedestrian performance by Eckstein backup Geoff Blum (jew? mayyyybe). The MLJs lost a squeaker to "San Diego 619," 240 to 192.5.
The Chosen team may be mired in a losing streak, but us Jews are no strangers to adversity. This is a team that just needs to find its Moses to lead it into the promised land. Coincidentally... Moises Alou is coming off the disabled list soon...
Adam's Life Slugin Semite Of The Week Award:
Week 7: Brad Ausmus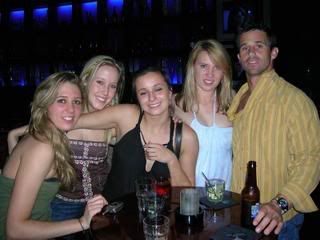 Ausmus Knows, The Ladies Love A Mensch
Week 8: Ian Kinsler
Kinsler: 8 for 22, 2 2B, 3 HR, 11 R, 6 RBI, 6 BB Last Week