Fantasy Baseball Obsession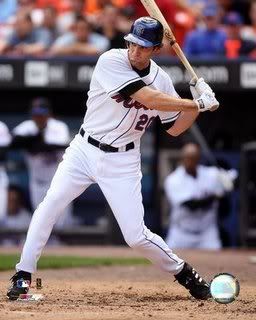 Shawn Green, Help My Fantasy Baseball Team
I need help.
It's not a realization I came to quickly. This year is my first year playing fantasy baseball, and I thought it was perfectly normal to stay up late Sunday night, before our rosters are set for the week, wondering if it was wise to bench Josh Willingham in favor of Josh Hamilton. I thought it was perfectly reasonable to ponder methods of beating down the league commissioner who hoodwinked one ignorant owner into giving up Carlos Beltran for Carlos Zambrano. I thought, certainly I'm not the only fantasy baseball team owner to have considered going to med school so I can learn sports medicine, become the Yankee team doctor, and help Derek Jeter recover quickly from his thigh bruise. Yep, for the longest time, I thought this was pretty typical behavior.
Then I decided to make an All-Jewish Fantasy Baseball team.
Inspired by my own Jewish heritage, my dad's interest in Jewish athletes (he hasn't found a website yet that's satisfied his thirst for knowledge in this category-- but
this is close
), and my newfound obsession with Fantasy Baseball, I wondered if it would be possible to fashion a Fantasy Baseball team out of all Jewish players, and, if not win the league, certainly win at least one week.
So I signed up for a fantasy team on MLB.com, which gives a $10,000 dollar prize to the fantasy team that ends up #1. And I set my sights on Jewish ballplayers to fill out my squad. Surely, 130 years after Lipman Pike first broke the religion barrier, I could find enough Jews to make one fine ball club. And sure enough, I did.
Let me present to you, the sure-fire, all-star studded, almost all-bar mitzvahed lineup of the Major League Jews:
C, Brad Ausmus, Houston Astros
While not known for his hitting ability, Brad is a full-fledged member of the tribe and a starter for a playoff contender. He'll get 400 + at bats this year, and is bound to get some hits in some of them. Ausmus = Awesome
1B, Lance Berkman, Houston Astros
Ok, I should admit something here. Lance is not a Jew. But I justify putting him on this roster, because he has been mistaken for a Jew many a time. Like in
this article
. And he plays with Brad Ausmus, so some Jewishness has to have rubbed off. Right?
2B, Ian Kinsler, Texas Rangers
No cheating here. Kinsler's a Jew, and only 24 years old! He started off this season hot, establishing himself as one of the top slugging second basemen in the league.
SS, David Eckstein, St. Louis Cardinals
Funny thing about Eckstein. He has the most Jewish name of the bunch, but claims not to be Jewish. I suspect there's some Jewish heritage somewhere in his family tree. And I'm not the only one. Eckstein
was selected to the Jewish All-American Team
. That clinches it for me.
3B, Kevin Youkilis, Boston Red Sox
Part of the "All-Jewish Infield" envisioned by Denis Leary (
link to previous post
) and Jewish GM Theo Epstein, Youkilis provides my team with a little power and his family recipe for dynamite potato latkes. Plus he can play outfield and 1st base.
OF, Shawn Green, New York Mets
The most famous of the bunch, and the way he's started this season (.353 avg., 3 HRs), its not inconceivable that he's back into the form that made him one of the most feared hitters of the 90's. And he doesn't play on Yom Kippur, gotta respect that. (note to self... bench that week)
OF, Kevin Mench, Milwaukee Brewers
Come on. You can't have an all-Jewish team without at least one
"Mench."
Yeah it's a stretch, but it's not like I'm drafting A-Rod and giving some excuse like "He saw a Jew once." This is Mench we're talking about, who's the 19th player in big-league history to homer in six straight games, but has done little else in his career. Mench gets this spot on name alone, and the fact that there's only one starting Jewish outfielder in the MLB.
OF, Elijah Dukes, Tampa Bay Devil Rays
I don't know for sure that Dukes is Jewish. All I know is that on Passover, every year at the seder, we fill a wine glass on our table and set it aside for a man named
Elijah
. And this man's name is Elijah. You wanna question my methods?
P, The New York Mets
On MLB.com, you choose a pitching staff, not individual pitchers. So I chose the Mets, because of two things. Sandy Koufax used to be their pitching coach, and Scot Schoenweis, a Jew, is on their staff. My backup pitching staff is the Pittsburgh Pirates, who have Jewish reliever John Grabow. The Cubs would have been acceptable as well, because they have Jewish starter Jason Marquis.
The Bench:
C, Mike Lieberthal, Los Angeles Dodgers
3B, Ryan Braun, Milwaukee Brewers
OF, Adam Stern, Baltimore Orioles
OF, David Newhan, New York Mets
3B, Ryan Zimmerman, Washington Nationals
Lieberthal claims not to be Jewish, but every other source on the subject says he is. Ryan Braun is Jewish, the most highly touted Jewish prospect since Green, but he's still in the minors. Adam Stern, formerly one of the Jewish Red Sox contingent, is in the minors right now for Baltimore, but was called up when Corey Patterson went on bereavement leave. David Newhan is a solid bench player on the Mets, so why not on my team? And Zimmerman? How can he not have some Jewish blood with that name?
So there you have it. I've spent way too much time on this. Which is how I know the men in white coats should be sent to take me away. If you know of any other Jewish ballplayers, please let me know so I can add them to my roster. In the meantime, please join me in wishing Mazel Tov to these fine young menches.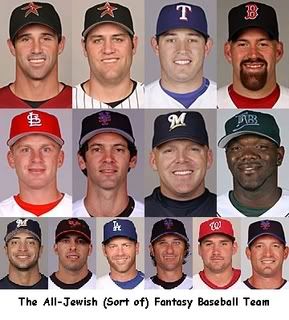 A Good Looking Bunch As Well