Will Strip For Radiohead Tickets
Attention: One Nubile Naked College Graduate in Exchange for
Radiohead
Tickets.
At 10 A.M., the tickets went on sale. At 10 A.M., they were already gone.
And I had missed my chance to buy a ticket for Radiohead's performance this summer at MSG.
They're my favorite band in the world, and I've never seen them live. Last time they were in town, a girl I knew bragged that she saw them 4 times. She's dead now.
Well not really. But I did block her on AOL IM.
I'm pissed, cause there's no way actual human beings were able to get tickets. A lot went to people who seek to make a profit by reselling them on ebay (last time I checked, they were going for over $200 a ticket).
Thom himself
seems pissed about people doing this type of thing too. After finding out
someone put a ticket to an intimate London benefit show
on the auction block, he wrote this on the Radiohead site:
"might i suggest that those selling their koko tickets on e bay for stupid money gives a contribution...
say 30 percent of their proceeds,
back to friends of the earth, for whose benefit we are all doing this show.
seems only fair, unless you're a shallow____, dont you think?
I couldn't agree more.
This year's Radiohead tour promises to be very exciting because, reportedly, they'll be showcasing a lot of new material. And, as a fan who owns every Radiohead song ever made publicly available, new material is always welcome.
On a sad note, Radiohead drummer/percussionist Phil Selway wrote on the
Radiohead site
that his mom passed away on May 10th. My heart goes out to Phil and his family.
Word is
that Thom is also releasing a "solo" record on July 11th, called
"The Eraser"
The tracks are listed as follows:
"The Eraser"
"Analyse"
"The Clock"
"Black Swan"
"Skip Divided"
"Atoms for Peace"
"And It Rained All Night"
"Harrowdown Hill"
"Cymbal Rush"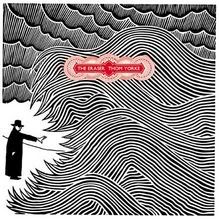 Needless to say, I'll be hard at work tracking down leaked versions of these tracks.
In the meantime, the offer stands. Come on, I know there have got to be some internet pervs with some extra tickets on hand.