Jewish Fantasy Baseball: A Jewish Shortstop Cometh?
From
Jewish Baseball News
:
Jake Lemmerman (Los Angeles Dodgers: 5th round, 172th overall pick). A 6′2″ shortstop who just completed his junior year at Duke (Div. I), Lemmerman led his team in eight offensive categories this season, including slugging percentage (.569) and on-base percentage (.418), and had the best fielding percentage of any ACC shortstop (.987).

So there is hope out there. We may not see the Temple Mount restored in this lifetime, but we may see a Jewish Major League shortstop, which is a miraculous event in itself.
Major League Jews Update:
Well, injuries have hit the team hard. It looks like Brad Ausmus will likely retire rather than force a return from a back injury. The former
Adam's Life Jewish Sluggin' Semite of the Week
has a career line of a .252 avg, with 1566 hits, 80 HR and 102 SBs. Travis Snider, Jew In Name Only, a recent addition, is on the DL, as is Gabe Kapler. Ian Kinsler is struggling, seemingly not recovered from an ankle injury. Kevin Youkilis has been sidelined recently as well. Is no one eating their matzo ball soup? Come on guys, get well!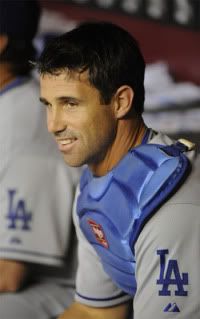 I Miss Awesome Ausmus
The Tefillin Team is 1 - 9, 6 games back from the division lead.