Lost: The End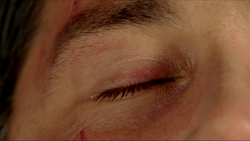 After six seasons, Lost is finally over. How was the ending? Two hours and 25 minutes of awesomeness... and then five minutes of confusion, greatly impacted by what I assume is ABC's decision to pair the closing credits with a shot of Season 1's Oceanic 815 fuselage chillin on the beach.
Warning, Spoilers ahead.
Here's my interpretation, after a night's sleep and a whole lot of thinking in circles.
There is an island. Hidden on the fringes of the real world, in a place where time and space are irrelevant. On this island is the Source. As the woman who raised Jacob and the MIB said in the Season 6 episode "Across The Sea", the light at the center of the island is Source of everything: "life, death, and rebirth."
In the last five minutes of the finale, Christian Shepherd reveals to Jack, and us, that Sideways-World we've been seeing this last season is really the afterlife-- a sort of meeting place before souls can "move on". Move on to where? Well, that might depend on your religious beliefs, but whatever is on the other side of that light, it's clearly either some form of heaven or reincarnation. Think of the Flash-Sideways as really a Fast-Forward Flash-Forward... what we're seeing is happening at some time far in the future when all the characters we know have all died.
In this last episode, we saw how necessary this flash-sideways afterlife was: it allowed these people, some of whom died without their purpose in life fulfilled, some who died without saying goodbye, some of whom had other unflinished business, to resolve their issues, to reunite and remember the joys and adventures they had throughout their life. For someone like Ben, who had his childhood stolen and his life manipulated for the worse, the afterlife is a place where he can be a hero and a real father. For someone like Jack, it's where he can finally get some resolution with his father. For Locke, its a place where he can spend happiness with Helen again. For Sayid, its a place where he can learn to finally forgive himself. Etc. Their realizations may have been aided by Desmond, Hurley, and others, but it doesn't matter: they happen all the same, and when they do, the characters can finally move on. They're not trapped, like Michael, the whispers, and the ghost we see Miles talk to back in the real world (remember when he found that money in the kid's hiding spot?)
Now back to the island. The Source, as a line of defense, conceals its location on the island (and the location of the island itself). But the island does exist in the real world (otherwise, how could one travel back and forth from it?). So its inevitable that people will find it. And clearly, some should. Because the island, as Jacob said in "Ab Aterno," is a real place where people can change their lives. Where their past doesn't matter. Where they can work out their issues BEFORE death. For the Losties, it was the place where they learned what kind of people they really were.
But as the Woman warned Jacob and the MIB, some people shouldn't come to the island. Because if they got too close to the Source and destroyed it... well, goodbye life, death, rebirth, everything. If the light here dies, if Smokey succeeds in destroying the island, or leaves it without a protector to be destroyed by some curious man, the heaven or reincarnation that relies on the island's source is gone. If the light goes out, then there is so flash-sideways afterlife, or great white light beyond that. No cloud blanketed heaven or Buddhist reincarnation. No happy cast-party in a all-religions church and a door of light opened by Christian Shepherd. Just...
Darkness.
Or, Dead is Dead.
So the island needs protectors. And since it exists in the real world, its protectors are human beings who come to the island either by fate (Desmond), by their own exploration (Dharma, Charles Widmore) or by invitation from the island's current protector (the Losties and the Candidates among them). MIB didn't want the job, and he almost led to the island's demise. But Jack did want the job, and he sacrificed his life to do it. He closes his eyes, and lies down, in the same spot where he opened his eyes and got up in the Pilot episode. Dying, now that he's completed his purpose: saving heaven and rebirth. Saving life.
That's what the Losties accomplished on the island. What they needed to accomplish all along. The island wouldn't let them go before because it needed them, all of them, especially Jack, to save and protect the source, which was in peril due to Jacob and the MIB's sibling rivalry. Once the Losties did their duty, they were free--to go to the afterlife, to return back to the real world, or, in Hurley and Ben's case, to stay and protect the island.
At the church of all religions, Hurley thanks Ben for being a great #2. It's clear that Hurley and Ben have not been island partners for the mere seconds it seemed in the episode. As Christian Shepherd says to Jack, the afterlife is a place where time doesn't matter. We're supposed to realize that we're seeing Hurley and Ben again at the end of their unseen reign on the island. Did they help heal lost souls who came by fate to the island's shores? Did they create a new band of Others? Was a new smoke monster unleashed? Did they bring their replacements to the island? We don't know what happened. Only that apparently their governance of the island was successful, and the gooey white light of the cycle of life is still intact.
We also don't know what lives Kate, Sawyer, Miles, Richard, Lapidus, Claire and Desmond lived when they returned from Lost island. Bothersome, but it's fun to speculate. How would the real world cope with the very odd appearance of a mostly-empty presumed crashed airplane, filled with only two passengers of the original flight (Kate and Lapidus), one person presumably lost in a freighter disappearance (Miles), two people presumably lost on a crashed Oceanic 815 flight (Claire and Sawyer), a guy who was last seen in a hospital bed recovering from a gunshot wound (Desmond) and a guy who works with a mysterious organization called Mittelos Bioscience and just so happens to be hundreds of years old? The press would not be so quick to dub these the "Ajira Six" and accept whatever incredible story they made up. Did Kate and Sawyer shack up? Doubtful considering the afterlife scenes we saw. But maybe Sawyer became a good father to Clementine. Maybe Kate helped Claire raise Aaron... and adopted Jin and Sun's baby Ji-Yeon. Maybe Desmond, Penelope and little Charlie inherited the deceased Widmore's millions and bought a sports team (they do like running in stadiums). Heck, maybe Richard went back to work at Mittelos and came up with a hip new line of eyeliner for their cosmetics department. That's all stuff for the sequel.
No, it doesn't answer everything. Why didn't Mom just let the MIB leave after Jacob was chosen to succeed her? What was Widmore trying to do, really? What's the deal with Walt? And plenty is up for interpretation. I'm still not really getting why the island is underneath the ocean in the afterlife. Maybe its because that's the afterlife of the island, when it does someday finally expire (hopefully no day soon).
But this episode did answer the big thing. What was it all about? The Losties came to the island to save the source of heaven and earth from destruction, and their mission was accomplished. In the process, their lives were transformed. They found fulfillment, love, and forgiveness. And that's what they needed from that very first season. The loop has been completed.
And most importantly...
SHE'S BACK!!!!!!!!!!!
One last thing. Jimmy Kimmel sucks. He teased us with three "alternate endings" and I stayed up to watch them, only to find that they were three limp, unoriginal parodies that were already done
better
earlier
this week
by funnier comic troupes and
you-tubers
. Last time I'm ever watching Kimmel.
But after 6 seasons... I'm (sorta) satisfied with the way the series played out. I would have done a lot differently, but I'm not angry at The End.
How 'bout you?
--------------------------
More theories from around the web:
Blogger Robz888 has a
Narnia/Oz theory
.
EW's Doc Jensen
pretty much agrees with me
.
Emily from
NYMag resides in haterville
.
The boys at Slate
do not approve either
.
Alan Sepinwall is a fan, and
sort of figured out the sideways universe before anyone
.