Yankee Stadium On Sale Today!
The New York Yankees announced today that they've finally reached a deal with the State of New York to
sell parts of "The House That Ruth Built."
Apparently, the Yankees still believe people have enough money to pay for $2,500 dollar seats in the new stadium AND $750 for a seat from the old one.
But read the fine print... the $750 dollar "deal" is actually a fraud:
The commemorative seats are authentic seat backs and bottoms with new commemorative arms.
Which means that for $750, you're actually getting only 75% of an old Yankee Stadium seat, combined with a brand new armrest.
So if you really want authentic, a pair of seats goes for $1499.99 (plus $70 shipping), and unlike the solo seats, these are 100% the real thing, not refurbished in any way.
But while seats are undeniably cool (and may even tempt some people in this economy, despite the high sticker), some of the
other items up for sale at Steiner Sports
are, er... less appealing:
Like, er.. this:
Finally, the Famed Yankee Stadium Goya Beans Sign Can Be Yours!!
Or this: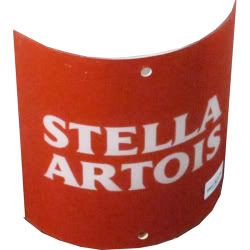 I Swear Guys, It's From Yankee Stadium! I Have The Certificate Of Authenticity Here Somewhere...
Or this: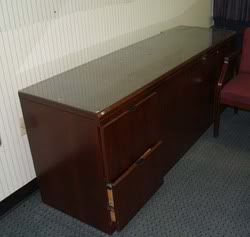 Brian Cashman's Filing Cabinet! Just Think Of All The Files He Kept In There!
(Like the ones that said "Don't trade for Johan Santana)
To be fair, there's some cool stuff being offered (The auction price for a "Be Alert Foul Balls" sign is only $200 as of now). And if you have an extra $50,000 dollars lying around, why not spend it on the most ridiculous item of all: the Yankee-logo-emblazoned turf from behind home plate:
Um... So, Okay, Where Do I Put This Exactly?
Your personal 20 x 20 foot piece of Authentic Yankee Stadium Sod from behind home plate with the interlocking NY comes complete with a bag of peat moss, grass seed, and a flag stating its origin: Yankee Stadium. You will also receive a 16x20 photograph of the final game at the original Yankee Stadium, a Joe DiMaggio Diary page along with instructions on how to properly care and maintain the sod, the official interlocking NY logo stencil and white paint. A Yankees-Steiner Letter of Authenticity is included. The grass will be delivered to your house and will be transplanted for you. The highest success for replanting is in the northern regions of the United States.
I guess that means Yankee fans down in Boca Raton are sh*t out of luck.
Can you imagine the discussions with the kid who mows your lawn?
"Yeah, Billy... be extra careful on that $50,000 dollar patch of grass right there."
And... oh yeah; come first snowfall, your investment is going to look like this: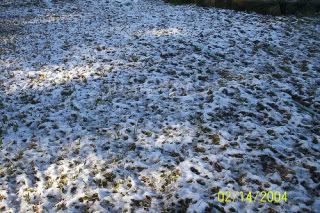 Quick! Roll Out The Tarp!!
For $50,000, I'm expecting the Yankee Stadium grounds crew to come to my home and perform the YMCA: