Christmukah Fun In NYC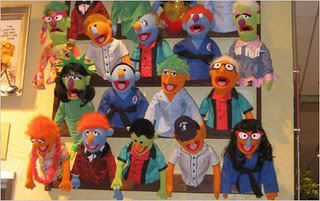 I need to go to this:
NBC- F. A. O. Schwarz has a make-your-own Muppet station called The Muppet Whatnot Workshop! The store provides a slew of wigs, eyes, noses, outfits, and body types to choose from, which combined allows for 72,576 different variations of Muppets.
The
Make-Your-Own Muppets
cost $130 each, but Kermit makes a pretty good argument for buying one, now:
Kermit & Ms. Piggy
The puppets are the real deal-- the same materials and quality that they use for the various Muppets shows.
You'll be able to design your own Muppet online starting in February, but if you're in New York City, why wait? Or rather, why not wait... on line at F.A.O., that is, for about two hours or so.