And Just Like That, There Was No More Elliot Spitzer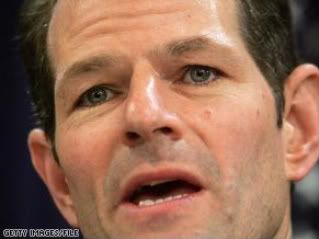 "Client 9"
He came into New York politics as a bright shining star, a beacon of hope amid the dirty world of crooked and morally bankrupt government officials. He'd brought corrupt corporations to their knees, prosecuted those who exploited the weak and the down-trodden. Some even believed him to be a future candidate for President. But today, Elliot Spitzer became just another disappointment in the ever-growing cadre of politicians who promised to be different, but ended up being all too familiar.
Elliot Spitzer, reformer, crusader,
prostitute-lover
.
The New York Times has reported
that Spitzer has admitted his involvement
in a high-class prostitution ring recently busted up by the feds:
The governor's travel records show that he was in Washington in mid-February. One of the clients described in court papers arranged to meet with a prostitute who was part of the ring, the Emperors Club VIP on the night of Feb. 13.

Mr. Spitzer appeared on a CNBC television show at 7 a.m. the next morning. Later in the morning, he testified before a Congressional committee.

An affidavit filed in federal court in Manhattan in connection with that case lists six conversations between the man, identified as Client 9, and a booking agent for the Emperors Club.
Yes, the night before appearing in front of a congressional committee, the married father of three decided to get jiggy with a high-priced bimbo.
In recent days, Spitzer appeared ready to meet some of the lofty expectations New York residents had for him. Despite political in-fighting and legislative failures early on in his tenure, he had poised his party to win the state senate for the first time in decades. With a solidly Democratic senate in place, Spitzer would finally have no stumbling blocks standing in the way of his proposed reforms.
Now it seems, it was all for naught. If he is indeed "Client 9" from the Fed's affidavit, then Spitzer will undoubtedly be
forced to resign from government
. Not to mention, he will face jail time for a crime he once prosectuted others for.
How could someone at such a high level, who knew the consequences of what he was doing, commit such a foolish crime? Then again, haven't several government officials done the same thing? Maybe it's a side-effect of being elected.
The man once called "Elliot Ness" by the press, is in an "Elliot Mess."
Elliot Spitzer, in a statement this afternoon, apologized to his family and the public, stating, "I am disapointed that I failed to live up to the standard I had set for myself."
So are we, Elliot. So are we.