Jewish Fantasy Baseball: Sophmore Season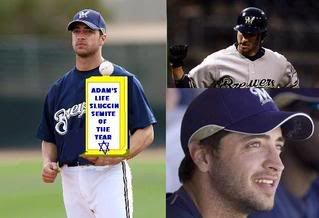 Hello my Hebrew baseball fans! And welcome to another year of
Jewish Fantasy Baseball
.
We get the season rolling late this year, due to the challenge of assembling all the necessary Jews on one auto-picked MLB.com fantasy roster. It's taken 5 tries, and I still don't have a satisfactory result.
Attempts to get last year's honorary Jew, third baseman Ryan Zimmerman, on the roster met with failure. Last year, I was able to get third baseman Ryan Braun in the last round of my draft, because no one else had heard of the then minor-league prospect. This year, I had to spend a first round pick on him. And apparently, MLB.com decided that once I already had Braun as my third baseman, I didn't need to select Zimmerman. Oh well. He wasn't a real member of the tribe anyway.
And, sadly, Kevin Mench is in the minors, depriving my team of much needed Mensch-power.
Here's this year's roster:
C- Brad Ausmus
Last year, the light-hitting hebrew Ausmus actually snagged an Adam's Life Sluggin' Semite of the Week award, and finished the season rated higher than highly-touted fantasy "expert" sleeper picks Jeff Mathis and Chris Ianetta. Unfortunately, this year, he loses his starting job to J.R. Towles, who I'm pretty sure believes in Jesus. Let's hope "Awesome Ausmus" finds some way to get some playing time this year and is able to recapture some of that "Maccabee Magic."
1B- Mike Jacobs
Jacobs is not a Jew. But that hasn't stopped the New York Mets and Florida Marlins from honoring him on
Jewish Heritage Day
. So it won't stop me from featuring Jacobs as the MLJ's first baseman. Last year, he batted .265, with 17 HR, 57 R, 54 RBI, and 1 SB. He's already started this season hotter than a potato latke in a frying pan: .298 with 5 homeruns and 10 RBI.
2B- Ian Kinsler
Kinsler knows how to hit a homerun and steal a base-- he had at least 20 of each last year. But did you know he also knows the difference between a knish and kishka? While his mother isn't Jewish, Kinsler's father is, and
Ian has no problem with being identified as such
. That's good enough for me. The leadoff hitter and second baseman for the Texas Rangers is one of the top batters at his position.
3B- Kevin Youkilis
Youkilis may be known by his nickname "The Greek," but to his grandma, he still "my little bubbelah." Youkilis had 85 runs and 83 RBIs last year, to go with a .288 average. Batting in the heart of that power-packed Boston lineup, he'll undoubtedly be fed many matzo-balls from opposing pitchers. He'll definitely win more than a few Sluggin' Semite awards before the year is out.
SS- David Eckstein
Now, the Eck will probably NOT win any Sluggin' Semite awards. But he is the only starting shortstop in the majors with a Jewish name. And what a Jewish name it is. As I mentioned last year, Eckstein was
once named to the Jewish All-American team
, despite not keeping a mezzuzah on his doorpost. For our purposes, we're giving him a mikva.
OF- Ryan Braun
The reigning National League Rookie-of-the-Year burst onto the major league scene last year like a burning bush, out-homering every player in the league not named A-Rod, after his call up from the minors. He also inspired Jewish little leaguers everywhere... even though it turned out
he's only half Jewish
. This year, he's moved from third base to outfield, gaining two-position flexibility in fantasy leagues.
OF- Lance Berkman
Not a Jew, but, as I said last year,
frequently mistaken for one
. Must be the ripped Golem-like physique.
OF- Ryan Spilbourghs
Wikipedia says he's a Jew. And if it's one thing we know, it's that Wikipedia is infallible, very much like the Pope. The only thing that makes me think it might be true? His middle name is Adam. My name is Adam. Regardless, when you're trying to fill out a roster using such a small player pool, you have to take some reaches. Who knows? Maybe this Rockies utilityman will have a big year and we'll find out he's 100% Hebrew.
P- New York Mets (representing Scott Schoenweiss)
"Shoe the Jew" has been terrible to start the year, and so have the Mets. But I'm confident they'll turn it around and once again end the season with one of the best pitching staffs in baseball.
Bench: C Brian Schneider (probably not Jewish, but that name!), 1B Casey Kotchman (ditto), IF Geoff Blum (ditto), OF Adam Stern (yes, Jewish, but probably won't be in the majors this year), IF David Newhan (recently called up to the majors due to Kaz Matsui's anal fissure injury), and OF Moises "Moses" Alou (to represent all the African Jews out there).
You may question my methods, but there's no questioning that for a roster made up of Jews, this team is going to need some help from on high to win it all.
Gripe time. What if I told you that there's a Jewish baseball player who's smacking the cover off the ball right now in the majors.. and he's not only REALLY Jewish, but he's so hardcore about his Jewishness that he has parts of the Torah tattooed on himself? He's currently batting .423 with 4 homeruns, 8 runs, 11 RBI and a stolen base, playing outfield for the Milwawkee Brewers. And he's not named Ryan Braun.
You'd probably say, "Why wasn't he 'chosen' to be on your Jewish Fantasy Baseball team?" Valid question. And nice pun! There's a simple answer.
MLB.com said he didn't exist.
Gabe Kapler retired from baseball after the 2006 season, and became a manager in the Red Sox minor league system. But this year, he tried out with Milwawkee, a longshot to make the team.
He made it. And with Milwawkee starting outfielder Mike "HGH" Cameron suspended to start the year, Kapler has filled in and
become one of this season's biggest surprises
.
Finally, today MLB.com finally wised up and added him to the player pool. I've claimed him off waivers. Hopefully no one else will take him from me. Gabe "The Kee-pa" Kapler must be mine.
So, with him in the fold, that completes the NEW, IMPROVED, 2008 Major League Jews. Hopefully, this season will end in a first place, fantasy league championship, and rebuilding of the temple. Mazel Tov to everyone!