From MySpace To Murder - Part II
Almost exactly two years ago, I wrote one of the first articles to note the phenomenon of "personal" social networking profiles and blogs suddenly becoming very public due to their author's notoriety after a newsworthy event:
a piece about 14-year-old Kara Borden and her 18-year-old paramour, David Ludwig
. David was convicted of killing Kara's parents when they refused to allow her to date him. Their online profiles provided reporters and the public a small window into a relationship that led to tragedy.
Since then, we've seen countless examples of news organizations using information from the Facebook, MySpace and YouTube accounts of individuals who become newsworthy due to crime and scandal. The latest involves a University of Washington student, Amanda Knox, age 20, who allegedly aided and abetted the murder of her roommate, Meredith Kercher, 21, a British exchange student, while the two were studying abroad in Italy.
The sordid details of the murder
drew international attention. At first, the police were baffled. They looked through the victims Facebook pictures for clues.
After a friend of the victim mentioned strange men that had visited the apartment with Amanda, the victims roommate was questioned. Amanda's story didn't seem to add up.
She acted odd and changed her story when confronted by police
. Then Amanda's online profiles were uncovered.
Amanda had a MySpace and Facebook profile, and even was featured in a short YouTube video. In the context of the grisly murder, Amanda's online persona takes on a chilling tone.
On her MySpace page, Amanda goes by the handle "Foxy Knoxy" The British press has already adopted this nickname to refer to Amanda in their sensational headlines. Schoolmates allege Amanda was constantly bringing strange men to her apartment for sex.
Her profile states that she doesn't drink or smoke, but her YouTube video seems to indicate otherwise:
In her MySpace blog, she wrote
a short story about the drugging and rape of a young woman
:
"A thing you have to know about chicks is that they don't know what they want," one of her characters says.
Her MySpace account links her to one of the other suspects involved. A man she allegedly carried out the crime with is referred to on the MySpace page:
"I've been working every night (except for Monday night) from 10pm to 2.30am at a bar called Le Chic. It's a really small place owned by this man from the Congo. His name is Patrick."
News outlets have picked up on all this. The Seattle Post-Intelligencer
questions whether or not online profiles are "fair game"
for journalists to pick at. As the
Seattle Crime Blog
puts it, sarcastically:
How foolish we reporters are, thinking that something somebody puts up on the Internet is - gasp! - public information. The Internet is "a place to share and be open." ...Amanda Knox was open, and the media is sharing. Shocking, I know.
As I said two years ago, an online profile will never give an exact picture of a person, infamous or not. But in the case of sudden noteriety, everything on an online profile becomes open to interpretation. Reporters and the public seek out an online profile so they can attempt to sort out who a person is. Amanda is vehemently defended by friends back home, but pretty much vilified in
this news article
. What side of the story does the online profile, the only thing actually written by the defendant, seem to support? On one hand, Amanda liked Disney's The Lion King and listed her mom as her hero. On the other hand, she wrote stories about rape and refered to herself with a sexual nickname. How wholesome was she?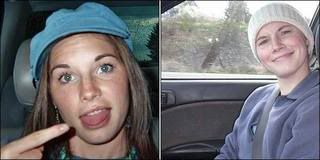 Amanda's (Now Public) MySpace Pictures
It's an answer the courts will decide for sure, but for now, Amanda's online persona invites the world to speculate. Amanda, like Kara and David before her, serve as reminders that online profiles are very public indeed, and users would be wise to be concious of what they reveal. Amanda is just the latest MySpacer to find that, in times of trouble, your "My Space" can become everyone's.
----------------
Meredith's friends have set up
a Facebook Group
in her memory.