Media Using Facebook To
Exploit
Learn More About Tragedy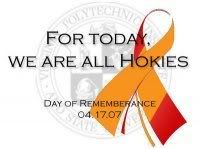 Media outlets at home and abroad are employing social networking technology to gain insight into the Virginia Tech tragedy.
The name of the Virginia Tech murderer (which I will not use here) has been released to the media, as have the names of the first few victims. In this digital age, where more and more people have online profiles, it was only a matter of time before curious individuals looked up the killer's and victims' Facebook and MySpace accounts.
The killer does not have an online profile, but his first victim does.
His alleged girlfriend
A freshman English Major at Virginia Tech. A facebook tribute group to her was created by two boys at different schools, who apparently knew the girl from high school. The group's message board, in addition to featuring memories and words of support from friends, contains messages from individuals claiming to be from large media organizations.
Matt Davidowitz, from Hofstra, writes:
I am writing as a member of Inside Edition, the television news magaziine [sic]. I know that this is a difficult time for everyone who knew Emily. It seems as if anyone who knew her was the better for it. If anyone would be willing to talk about Emily and everything she was a part of, please call me at (212) 817-5458. We have people on the VT campus who would can go where ever you would need them to. If you are hesitant, and haven't decided whether to talk to the media yet, please call me and we can discuss it further. Thanks.

-Matt
James Clothier, from London, writes:
I know it's a difficult time to hear from journalists, but over here in England it's the only thing people are talking about. Were any Brits out there who want to talk?
I'm writing from The Sun, in London. Phone is 0044207 782 4104.
In a different Facebook group, dedicated to all the victims, Bradley Olson from UPenn writes:
My name is Brad Olson and I'm a reporter for the Baltimore Sun. I'm trying to write a story putting together accounts from many people about what happened yesterday. I know this isn't easy for anyone, but we're trying to something that explains what went on, and how everyone is coping. Anyone who wouldn't mind writing me what happened to you on 4/16, or speaking to me about your experiences for five minutes, please e-mail at bradnews@gmail.com.
Clearly, the media is realizing that social networks, Facebook especially, can be a useful resource when tragedies on college campuses occur. The student body is immediately accessible, and if a reporter has a Facebook account based at Virginia Tech, the detailed profiles of the victims are available to be viewed and to gather information from. There's a disturbing voyeuristic quality to it all.
Brad Olson apparently uses web forums for stories often. A story he wrote about a Naval Academy spring break trip got this response from a reader: "Your newspaper's standards have reached a new low. Bradley Olson has taken unsubstantiated rumors confirmed by anonymous Web site forum sources and, with no facts, has attempted to smear the academy."
That said, Brad isn't alone in using public forums on the web to gain insight into breaking news events. But that criticism should serve as a warning to reporters that may decide to rely on information gleaned from Facebook profiles when writing stories about the victims. The information Facebookers post on their profiles isn't always true, and isn't always what they'd like known by those outside their circle of friends. One can only hope the media is responsible and doesn't tread too much on the personal space of the Virginia Tech victims and their friends and families.