Bald Britney, Bridget's Baby
What can I say that hasn't already been said about Britney Spears'
rather bizarre choice of hairstyle
? Only that she sort of looks like That Yellow Bastard from Sin City: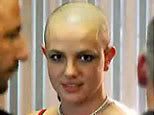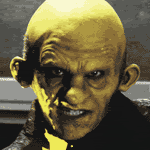 This blogger compares her to the
slightly more obvious Mr. Clean
.
Why'd she do it? Theories abound. Such as...
1. She's up to star in the sequel to G.I. Jane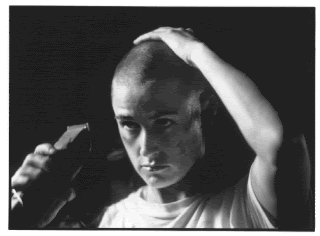 2. She really digs Larry David. (She's been wearing that Jewish Star alot!!)
Jewish Star + Bald Head = Brit Hearts Larry??
3. She Wants To Be The New Host of "Deal or No Deal."
Howie Mandel, Watch Your Back!
4. She's under contract to become Patrick Stewart's stunt double in the next Star Trek movie.
5. She wants to start a new fashion trend: Cancer Chic.
Whatever the reason for her self-shearing, Britney at least can take comfort in the fact that her hair will, eventually, grow back. Unfortunately, the damage from her marriage to K-Fed will not be as easily erased.
[Update] Apparently,
head-shaving is contagious.
[Update II] The NYPost reports that
Britney lied to her nanny about going to Duane Reade, and then spent the night (and day) partying with scantily-clad dancers and strippers
. Yeesh.
On a positive note, actress/model Bridget Moynahan is expecting her first child. On a sad note, it's not mine.
But it is New England Quarterback Tom Brady's
. Which may come as a bit of a shock to Brady's current girlfriend, supermodel Gisele. Now Tom faces an agonizing choice: Dump his mind-blowingly hot supermodel girlfriend and do the gentlemanly thing by making an hororable woman out of his mind-blowingly hot actress ex-girlfriend, or stay with his mind-blowingly hot supermodel girlfriend and support the mind-blowingly hot actress ex-girlfriend and their baby with money from his vast personal fortune. Oh what to do!!!?!?!?
Hopefully This Picture Makes Up For The Ones Of Howie Mandel And Patrick Stewart
This guy was a little too late
, but it was a nice gesture nonetheless.
I hate Tom Brady. I so want to be him.