Day 4 & 5 Lake Titicaca - Copacabana, Drinking With The Irish, And I Almost Kill Jay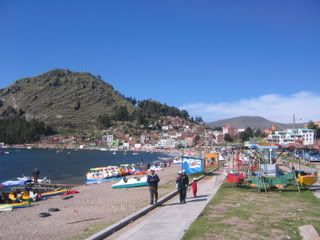 Not What Barry Manilow Was Singing About
The bus ride to Copacabana was uneventful, save for a brief pit stop by our bus driver, who decided he'd have a leisurely breakfast while everyone on the bus waited for him. Nevertheless, we got to the border, got our passports stamped and walked over, the first time either of us had ever walked across an international border. Needless to say, we took a lot of photographs.
Note: We Found Out The Actual Border Was A Hundred Feet Beyond This
On our bus were those same two Irish guys from Cusco and Puno. They let us borrow their guidebook. When we got to Copacabana, Jay and I figured we'd ask them what they were up to that night. Maybe we could get some drinks. The Irish guys told us they'd be at this restaurant, La Orilla, at 8.
As we walked away, Jay and I realized it sounded like a double date. "You think they think we're gay?" I asked. "You think they're gay?" Jay replied. We figured we'd go to the restaurant at 8 and get some drinks either way.
We had booked our hotel on Expedia ahead of time, because it was listed as the best place to stay in Copacabana and we wanted to make sure we would get a room. And it was only $45 dollars a night!
Traveler's Tip- Hostel rooms in Copacabana start at as little as $1 a night. According to the register we glanced at, people at our hotel were paying as little as $25 dollars a night. You only need to book in advance if there's a major festival in town.
The hotel was called Hotel Rosario del Lago. Our room was small but comfortable, with a fantastic view of the lake. The staff was helpful, the hotel was environmentally friendly (the tv, lights and heater won't turn on unless the room key is inserted) and they had a decent buffet breakfast. It was no Qelqatani, but nice anyways.
We took a walk around town. First, we walked along the "beach." While not a beach in anything but the most basic definition of the word, it was a fun scene. Carnival-style gambling and shooting games, colorfully painted foosball tables, duck shaped paddleboats, fried fish vendors and kiddie rides. There were also people selling horseback rides and excursions to nearby (2 hours) Isla Del Sol.
Copacabana: Like Seaside Heights, Except More Classy
We soaked it in for a few minutes and headed back up to the main square, where we saw the spectacular white cathedral the Spanish had built there: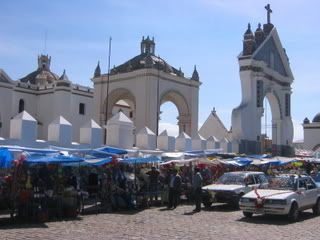 Not a Synagogue
The church has a role in a unique and bizarre practice in Bolivian culture-- a blessing over motor vehicles. People travel from all over Bolivia to the church to have their rides blessed. They decorate their cars, trucks and SUVs with flowers, streamers and religious icons, the priest says a prayer, and suddenly, who needs auto insurance?
Pimp My Ride, Bolivian Style
We came upon a farmacia (pharmacy), so we decided to ask if they had any Cipro. Perhaps my doctor from home could fax them a prescription. "Tienes Cipro?" I asked. "Si," the pharmacist replied, taking a pack of ten pills from the shelf. "Quince bolivianos," he said. 15 Bolivian dollars.
"Para uno?"
"No," the pharmacist replied. "Para diez."
Now, Cipro is around $7 per pill in the U.S. (according to a google search). 15 Bolivianos is less than $2... for a pack of ten!! And no prescription necessary!!! At that moment I began to love Bolivia.
We headed back to the beach. We shot some targets and won lollipops (which Jay gave to some local kids.)
Me, as a Republican
We played a gambling game where you throw ten cents onto a board and try to land on more money. Jay and I kept feeding Bolivian dimes to one little kid, who hit a lucky streak and was up about 5 bolivianos. "How do you say 'Quit while you're ahead'?" Jay asked, but we couldn't figure out how to say it in time before the kid promptly went cold and lost all the money.
We also drank a beer and ate pistachio-type nuts with an old Bolivian man and his wife of over 50 years, who were in Copacabana for vacation with their family. While communication was difficult, we managed to have a conversation. It was a nice moment of the trip where we could just chill and relax.
Partyin With The Locals
That night we meet up with the Irish guys, who tell us they were thinking the same thing we were. We have a good laugh. They're already drinking, so Jay and I order drinks. I order a Bolivian beer, Jay gets a Pina Colada.
"Why don't we get some wine to go with dinner," one of the Irish guys proposes. "Sure, we'll get a bottle," I say. "How about two," the Irish guy replies.
It's no stereotype. Irish people can drink!
We down the bottles of wine, the Irish guys buy us two white russians and we down those as well. I think I ate a steak sometime in between. We talk about politics, both in the U.S. and Ireland. We make fun of Bush. Then we head to a bar down the street where we have some more strange drinks. From there, it starts to get hazy, but we end up shooting pool (badly) with a couple of locals before me and Jay somehow manage to stumble back to the hotel. The gate is locked, and there doesn't appear to be any way in. We start yelling, banging on the windows. Finally, a man comes out and opens the gate, pointing a a doorbell in plain view. Estabamos borrachos.
The next day we rented a mallard-shaped paddleboat and went out on the lake. Jay laid down in the back while I occasionally steered us away from oncoming boats. I hiked up my jeans for about ten minutes to get some color-- and was sunburned pretty instantly. At high altitude, the sun hits hard.
What, You've Never Seen Two Straight Guys Sailing In A Flamboyantly Colored Duck Before?
We ate lunch at La Orilla, the place where we had met the Irish guys. They have a roof deck, so we sat up there and had some pizza for lunch. As we're sitting there, Jay looks down on the street and sees someone familiar... one of the OC girls from our Inca Trail hike.
She sees us and comes up to sit at our table. "Hey guys!" she yells. "Where are your friends?" we ask her. "Oh, yeah, well, they kinda ditched me," she says, and proceeds to tell us...
1) She hooked up with one of the porters.
2) Her friends were pissed because she ditched them for the porter on New Year's.
3) A variety of different wealthy older South American men have bankrolled her various travels.
That was enough entertainment for us. We said our goodbyes and headed back to the hotel to take a nap (and watch Kindergarten Cop on TV).
That's about when Jay suggested I look at our bus ticket for our return to Puno. We had timed it just right so we could get back to Qelqatani, pick up the bags we had stored (and our beloved walking sticks), have lunch, and take a cab to the Juliaca airport in time for our 5:30 flight to Lima. We were told we had tickets for the 9 AM bus, which would arrive in Puno around 12:30.
Then I looked at the ticket.
Departs Copacabana: 12:30
Arrives Puno: 5:30
"Um... Jay."
"Yes?"
"We have the wrong ticket."
A bit of panic ensued. If we missed our flight to Lima, we'd basically have to spend the night in Puno, would need to spend an additional day traveling and it would kill the next two days of the trip. The man at the front desk assured us that if we went early to the bus stop, we would probably be able to get on the morning bus.
That night we ate at a small restaurant down by the beach, where a four course meal cost $1.50. We tipped the guy 20 Bolivianos (about $2.50) and he was very appreciative.
The next morning, we woke up at around 7 AM, ate breakfast and headed to the bus stop. That's when the trouble began.
(Let me say first that Jay will probably have a different version of this story. He's welcome to post it in the comment section below.)
At the first ticket kiosk, a woman says that all the buses are full. At the next, a man says they're full as well. But then the woman runs over and says the bus isn't full, and seconds later, the man says there's room too. A minute passes, and the man now says there isn't room on the main bus, but there is a second, smaller bus. The prices quoted by both the man and the woman change 5 times in a minute. One second, they're telling us 150 Bolivianos, the next second they're telling us $50 dollars. After we negotiate to pay 35 Bolivianos (i think), they usher us onto the bus, which has only one seat left. Then they bring on a folding chair. Jay refuses to sit in it, saying he'd rather sit on the floor. Meanwhile, I'm worried that if we don't make this bus, we'll miss our flight. To my eyes, we have no other choice. It's either this bus or that's it for the next two days of our trip. Then, a woman runs up to us and says there's a mini-bus that will take us across the border to transfer to a bus to Puno.
If this sounds confusing to you, just imagine how it was for us, two people with nothing but pigeon spanish under our belts.
Jay, then refuses to get on
either
bus. I'm getting f*cking pissed at him. Yeah, I know that probably 85% of the people "helping" us at this point are actually trying to squeeze every last buck out of us. Yes, I agree with Jay that the whole mini-bus thing is shady. But I honestly, at this point, didn't see any other option. The woman at the ticket kiosk assures me that the mini bus will get us to Puno. She assures me it will get there in plenty of time for us to make our flight. So I'm about ready to knock Jay out and drag his unconscious body onto the minibus with me, if that's what it's going to take.
Fortunately, after repeating the same questions I had asked, and getting the same answers, Jay finally gets on the minibus. Also on the minibus are a group of Argentinian teenagers. They assure us that the minibus will get us to Puno, somehow.
We get to the border, and it seems everything is going to turn out alright. We get our stamps, cross over, and there's another minibus waiting for us on the other side. We step in, sit down, and off we go.
For about two minutes. Then it stops in an alleyway, and we're told to get out. Jay and I look at each other uneasily.
What the hell is going on??
A rickety, small red bus pulls up. It's already packed with people. All of them locals. The dreaded local bus.
There aren't any people with chickens on their laps, as we'd been told to expect, but it certainly smells like there are.
We cram in to two seats in the back. Leg room is non existent. I'm half dangling into the aisle. The bus begins driving, bouncing along the road. Then it stops, picks up some more people, and keeps going. It repeats this process several times. Every time I think they can't fit anymore people in, they somehow manage to find room. Most of the room they manage to find in is located around me.
Crammed Onto The Local Bus With Our Argentinian Amigos
After several hours in the packed bus, we finally get to Puno. I feel vindicated. I said if we got on the bus, we'd get to Puno. Jay doesn't see it that way. He thinks he was right. "I said we'd probably get stuck on some local bus," Jay says. "That couldn't have been the only way to get here."
"Who cares? We got here, didn't we?" I say back. We get into a cab to take us to the Qelqatani, still arguing back and forth. "If we didn't get on that bus, we'd still be in Copacabana," I say. "No, we could have gotten another bus," Jay insists. "What other bus??!!" I yell back. We're almost ready to fist fight by the time we get to the hotel.
I lost you in Puno before, Jay,
I think to myself.
I can lose you again.
We manage to declare a truce, eat lunch, and change our flight to 3:30, so we don't have to wait in Puno that long. A cab comes and drives us to the airport. We get in another fight once we're there, because when they make the boarding announcement, I want to go and get on the plane. Jay insists on waiting to be last on. That bastard. I'll kill him!!!
The flight was pretty quick, with a brief stopover in Arequipa. Looking out the window, I was glad we decided not to go. I don't think we could have handled more hiking at that point.
By the time we got back to Lima, I think both of us realized our fight was stupid. All trip, we managed to avoid fighting. Even when a certain someone (who shall remain nameless) chose to expel gas in our small closed tent. But our travel day from Copacabana to Lima was our most stressful, and it clearly brought out the worst in us.
The Lima air though (sea level! finally!) would do us good.
Check back tomorrow for the stunning conclusion to "Peru: The Incredible Journey..."