Time For A Change
After years of arrogance and embarassment, it was finally time for a change. And the decision has been made. Now we can all breathe a sigh of relief.
Britney Spears is divorcing Kevin Federline.

Oh and, yeah, the Democrats won the House and probably the Senate.
Everybody saw this coming. K-Fed now has the opportunity to knock yet another celebrity up with two kids and then leave (his ex also has two mini-Feds).
Perhaps the election was just the impetus Britney needed to vote her scumbag husband out. The neverending tabloid articles forecasting the end of the marriage were not unlike the many campaign commercials urging Americans to make a change. While millions of Americans were fed up with Bush, Britney was finally fed up with k fed.
The divorce apparently came as a shock to K-Fed
, who was too busy trying to remarket his CD to consumers as a beverage coaster. Republicans, on the other hand, kind of knew this was coming. How could it not, with all the scandalous sex, horrifying mistakes, and rampant abuses of power? Yes, Republicans knew a Britney-K-Fed split was inevitable.
What does the future hold? Do the Democrats have a plan to win in Iraq? Does Britney have a plan to launch a new album? (she's been looking good lately)
I'm optimistic. By this time next year, we'll have Iraq secure, and be listening to the new Britney single, "Fed Up." And Former Senator Rick Santorum and failed rapper K-Fed will be cited on Page Six for their shocking indiscretions at Scores Gentleman's Club.
TMZ.com
provides
a photo retrospective
of the couple's epic, tragic romance.
And MSNBC provides
a handy map
showing just how much Democrat fever has swept the nation.
It's a big day for change, people! So wear a new outfit. Eat at a new place. Take a different route home. If Britney can turn from pop star to white trash momma to pop star again, and the Democrats can turn from pansies to head honchos, there's hope for us all.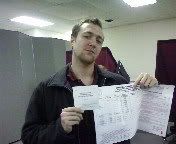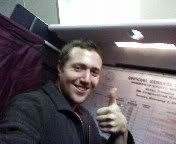 (note: first time voting in an actual voting booth-- rather than absentee)