#27, Let The Ticker-Tape Parade Commence
[[NOTE: Get Your Tickets To City Hall Plaza,
HERE
]]
I was in a ridiculously crowded bar last evening (Blind Pig, on 14th Street) when Mariano Rivera, the greatest closer in the history of the game, closed out the New York Yankees 27th World Series Championship.
The atmosphere was electric. With every windup came the quickly accelerating claps and stomps that have become the traditional last sound opposing batters hear right before a two-strike cut fastball sends them back to the dugout. When that harmless grounder was scooped up by Robbie Cano, and shoveled to Mark Teixeira at first, you could feel the bar momentarily leave the ground.
The Yankees Win!! Thhheeee Yankees Win!!!!!!
My friend Jay was at the game. I had chosen a tragic, mist soaked Game 1. I hate that bastard right now.
I plan to go to the ticker-tape parade tomorrow, and if your do too, here's some things you should know:
First, an excellently illustrated blog post on the importance of getting there EARLY:
The Anatomy of A NYC Parade
.
Second, a parade primer: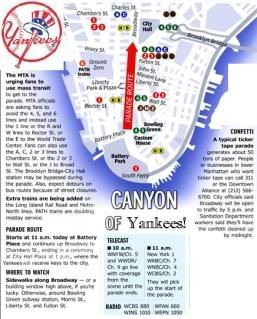 Click To Enlarge
Third, the parade route map:
Click To Enlarge
And finally, practical advice from around the interweb on how to land a choice spot:
This Will Not Happen To You:
Best Parade Ever (Seriously)
One Man's Good Spot:
Broadway nr. John St.
Live Blog Of The Giants 2008 Parade:
He gets there at 9:21
, and that's cutting it close.

My First Ticker Tape Parade
They get there around 9:00.

Could This Person See Anything?
"Toomer, I Think"
"People were already lined up in front of Trinity Church this morning
when I left for work
and cars were rolling down Broadway honking incessently – all 4 hours before the Giants even showed up."
This is from the Mayor's Office:
Mayor Michael R. Bloomberg announced today that the City will hold a public ticket giveaway at 2:00 PM today through 311, NYC.gov and Twitter for the ceremony honoring the 2009 World Series Champion New York Yankees at City Hall Plaza on Friday, November 6, 2009 at 1:00 PM. The 1:00 PM ceremony, where Mayor Bloomberg will present the Yankees with Keys to the City, will follow the ticker-tape parade up the Canyon of Heroes that begins at 11:00 AM. The sidewalks lining the parade route along Broadway from Battery Place to Chambers Street are open to all members of the public, and the City will set up a large screen near City Hall Park for members of the public to watch the subsequent ceremony. There is very limited space on City Hall plaza for the ceremony itself.

The City will conduct a public giveaway for 500 tickets to the ceremony on Thursday, November 5th from 2:00 PM to 4:00 PM through www.NYC.gov/parade and 311. People will also be able to access the entry form through the New York City Mayor's Office Twitter page: twitter.com/NYCMayorsOffice. New Yorkers 18 years and over will have an opportunity to enter the giveaway by visiting www.NYC.gov/parade or calling 311 and selecting the Parade Giveaway menu option. There will not be an opportunity to enter the giveaway before 2:00 PM, and it will end promptly at 4:00 PM. Entrants may only enter once and request two tickets, and will be asked to give their name, email address and phone number in order to enter. Members of the public can become a follower of the New York City Mayor's Office Twitter page by visiting twitter.com/NYCMayorsOffice.
Get There Early, People. Otherwise, don't bother.