Fiji Water Holds Fiji, Fijians Hostage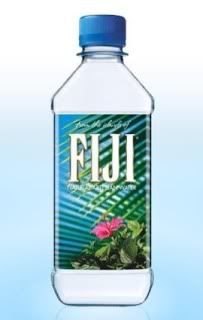 The island nation of Fiji has a limited fresh water supply... and most of it is being sent abroad, where consumers buy bottles of it for $1.50 each. This puts the Fiji people in quite the Catch-22: They need the Fiji Water company to prop up their weak economy, but the Fiji Water company is hurting their country by dominating limited water resources.
Mother Jones provides the interesting case study
of what happens when a corporation defines a country.
Personally, I prefer water that comes from melted Antarctic icebergs. They ship the iceberg up here in a specially designed freezer, break off a chunk, and deliver it straight to my door, where a trained professional holds it over my head, melting it slowly using the hot breath of an emperor penguin until my thirst is sufficiently quenched. It costs $500 per ounce (plus a tip for the penguin's caretaker), but it's worth the extra cabbage to drink something that hasn't been in liquid form for millions of years. If it was good enough for the mastodons, its good enough for me.
I also use a Brita.