Uruguay/Argentina Day 2: "Se Fue, Buquebus"
"I Hate You Buquebus!"
Our plan for Day 2 of our trip involved a LOT of traveling. In order to meet my cousin, who was down in Argentina for six months with his fiancee, we had to travel to Bariloche, an Argentinian mountain town about a two and a half hour flight from Buenos Aires. On paper, the plan looked solid. Wake up early, take an hour bus ride to Colonia, billed as "Uruguay's only World Heritage site!" and then a ferry, called the "Buquebus" to Buenos Aires, where we'd catch a cab to the airport in time for our flight.
The landscape outside the windows wasn't as interesting as the one I gazed at in Peru, so I used the bus ride to catch up on some sleep. Upon arrival in Colonia, Jay and I made a comical attempt to find lockers to store our bags, which involved us speaking pigeon spanish to people and receiving complicated instructions in speedy spanish in return. We'd ask, they'd point... and we still had no clue.
Finally, we broke down and sprang for a hostel, paying $10 each to stuff our bags in a room. "It's crazy that we're booking a hostel that we're not even going to sleep in," I told Jay. Little did I know it wouldn't be the last time...
How was Colonia? Well, it's a pretty town, leafy trees, cobbled streets, whitewashed, 17th and 18th century architecture, a picturesque lighthouse. But it was pretty dull. We had seen what felt like the whole town in an hour, and after killing time at the handicraft market (which should have been called the handi-CRAP market), we didn't have that much else to do.
Look! A Lighthouse!
Traveler's Tip: Jay's friend in Argentina would tell us later that a fun thing to do is rent a golf cart or ATV and just go cruising around... and in retrospect, we noticed a few of those rental agencies in town. But we didn't think of it at the time.
Bored, we made our way to a small restaurant down by the water with a garden in back, which had been recommended by our guidebook. I loved the atmosphere... the open red brick grill, a planter running along the top of the wall from which the cook occasionally picked fresh herbs for the food. It was a beautiful day out, so Jay and I ordered the lunch specials (which included wine and dessert), sat back and relaxed.
The Meal That Lasted Forever
And relaxed... and relaxed.
With a half an hour until our ferry was due to leave, I asked the chef if I could try some cooking on the grill. With twenty-five minutes left, we dug into some ice cream. With a little over fifteen to go, we paid our check.
In America, We Call This "Lawsuit Waiting To Happen"
Calmly walking up the street towards our hostel, neither of us remarked on the time. We got to the hostel, however, and the realization finally hit.
"We have to run."
With our big backpacks strapped on, we ran towards the Buquebus terminal along the uneven pavement, nearly toppling over as we went. We arrived at what turned out to be the wrong terminal... pulling a U-turn, we sped towards the bright, shiny, Buquebus, sitting in the water by the dock. A few crewmen passed us.
"El Buquebus?" one of them asked.
"Si!" I shouted, out of breath.
"Se Fue," the man responded. "Se Fue. It's gone."
"But it's right there, it hasn't left!"
He shrugged his shoulders.
We arrived at the terminal five minutes before the boat was scheduled to leave. Above the check-in desk was a sign: "All passengers must check in at least an hour before departure."
Traveller's Tip: If you miss the Buquebus from Colonia, or need a cheaper option, there's the Colonia Express.
The next boat didn't leave until 4:30, which meant there was no way we were making our 5-something flight. It also meant staying in boring ol' Colonia for about three more hours.
Desperate, I called my Mom while Jay purchased tickets for the next Colonia Express boat (our tickets for the Buquebus-- non-refundable). My mom's travel-agent style skills snagged us the last two seats on the early morning flight from Buenos Aires to Bariloche. Jay and I weren't happy about the whole situation.
It wasn't until we were on the boat headed to Buenos Aires before I realized...
We're going to be spending an extra night in friggin' Buenos Aires. Feel good about that, you ungrateful little shi...
Florida Street, Buenos Aires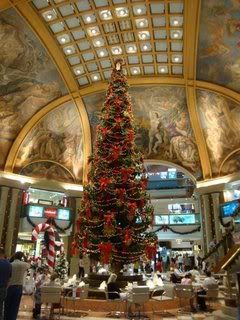 A Michelangelo at a Shopping Mall? The Galerías Pacífico
We stayed at a hostel in Recoleta, an area much like New York's Soho. We walked around the city, cruising through the shopping street of Florida, going through one of the prettiest malls I've ever seen, and ended up in Puerto Madero, the newest part of town, a revitalized waterfront with restaurants and bars. Wanting to sample some of the local flavor, we stopped into a favorite traditonal Argentinian haunt.
Jay and I Meet The Locals
I have to say, impressive Hooters. Although their idea of chicken fingers was a chicken cutlet, they won points for some inspired dancing and quality..er..service.
We also met some great Portenos (Buenos Aires residents), who gave us some tips about where to go and what to see.
As mentioned earlier, Jay had a friend in Buenos Aires, so around 10:30, we head to his place in Palermo to go out for dinner. He chose a popular parrilla (i'll have to get the name), otherwise known as a grill restaurant, where we could try some of Argentina's greatest natural resource: Beef.
After about two hours of waiting (they did give us some complimentary champagne and chorizo), we sat down with some American girls we met outside. We ordered the lomo, or filet mignon, and the bife de chorizo, a cut like a New York strip steak... except three times as thick.
Beef: It's What's For Dinner. And Lunch. And Breakfast.
Along with our meal came a smorgasbord of sides all in their own small porcelain dishes: traditional things like mashed potatoes and grilled onions and mushrooms to some delicious adventures like a creamy chopped egg salad and some sort of eggplant-tomato sauce. We also got some fries, some sausages,
enough food to satisfy Jessica Simpson
for a day:
Tony Romo Likes 'Em Meaty
Two of the girls were, strangely enough, vegetarians, who apparently had no problem going to a restaurant solely known for serving copious amounts of succulent meat. Perhaps it was the orgasmic sounds we made while chewing the jugoso (juicy), perfectly cooked steak, perhaps it was a prevailing "When in Rome" attitude that adventurous travelers are known to adopt, or perhaps it was all the wine (Malbec) we were drinking, but the veggie-lovers threw caution to the wind (and horrified committed vegetarians everywhere) by giving in and giving the steak a try. "You guys just make it look so delicious," one of the girls said.
This is how I described it in an IM to my friend Chris:
me: the best steak ever

chris: was it, what cuts did you get

me: the lomo, which is filet mignon, but there its bigger and just like butter and then theres my fav the bife de chorizo which is like a ny strip steak but three times as thick its like cuttin into a whole cow and just absorbing the animals life force, thereby becoming stronger and more deadly

chris: is it delicious

me: oh yeah and the sides they give you this sauce' chimmichurri every place makes their own some garlic, herbs, some oil and of course, the mashies and the fries and then you down it all with the tastiest of wines the malbecs

chris: that sounds like high quality porn for your mouth
Show me all the PETA ads you want. After that Beef in Buenos Aires, there's no way I'm givin it up.
We finished dinner at around 2 am, the time when locals PREGAME before going out. Jay and I knew we had a flight to catch in the morning. We had to leave our hotel at 4:00 AM to get to the airport. After a long day, heading back to the hostel for an hour or two of shuteye would have been wise.
"Come on guys," Jay's friend said. "Let's go to Crobar."
So we stuffed all six of us in a cab and headed to one of Buenos Aires' hottest clubs. I don't really know how he did it, but Jay's friend got us past the line and inside before we knew it, and arranged for us to have a table in the VIP area, complete with bottles of champagne.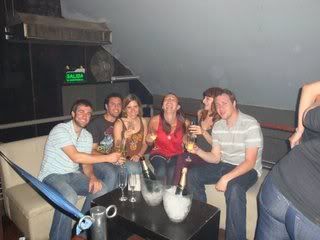 Champizzy at the Crobarizzy
Techo-beats blaring, table dancing all around. It was a wild scene. At 3:30 AM, plastered and in the middle of my patented "put on the roof" dance move, my phone alarm went off. The time when Jay and I had planned to WAKE UP for our taxi to the airport.
"Wee SHlood Pob bobbly gow," I said to Jay.
We checked out of our hostel at 4 am... without having even slept in it. Again.
I don't know how I got on that plane, but I know I was still drunk. I closed my eyes before liftoff and let the alcohol take me on a wild, scary ride to dreamland.
The next time I'd open them we'd be in Bariloche, land of the seven lakes and several stray dogs...