Who Is Matt Cassel?
This Sunday, for the first time since 2001, the New England Patriots will have someone other than Tom Brady under center for the start of a regular season game. Instead, fans will see Matt Cassel, a guy who is not dating Gisele, not the father of Bridget Moynahan's baby, and isn't constantly confused with Matt Damon.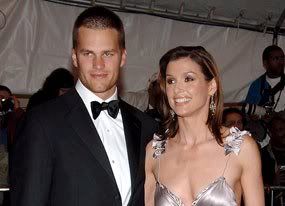 Ignore The Man On The Left
Who exactly is this guy?
If you're a sports fan, or have even watched the news, you've probably heard that Cassel hasn't started a game since high school. You may even know he's married to a
total hottie former USC volleyball star
.
Seen here, unfortunately, hobnobbing with a certain someone...
Talk About Embarrassing Pictures On The Web...
I was curious to see what I could find out about this mystery man. This is what I uncovered:
His father, Greg, was a script writer on the CBS series "Dr. Quinn, Medicine Woman" and his mother is a set designer. Matt and his family had to live in a hotel for weeks after the Northridge earthquake of 1994 destroyed their home.
Cassel was actually better at baseball as a kid. He batted cleanup on Northridge California's national championship Little League team in 1994, which eventually lost to Venezuela in the Little League World Series. "He's got tools other guys might not possess," his little league coach said. "He doesn't let anything bother him."
Then, his sophomore year, he took over as quarterback. He followed a solid sophomore season with a jaw-dropping junior year, quarterbacking his team to a championship.
His sophomore year football coach said, "With his personality, he's one of those kids who can throw an interception, then come back and throw a touchdown. I haven't had many kids who can go one play at a time. He's a big-time player, no question."
His high school girlfriend was a major hottie too: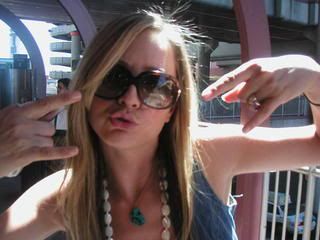 She's a "professional model." Sort of like Gisele!
I guess that's what you get when you're the star quarterback.
He was ranked the #53 prospect in the nation coming out of high school. Although it should be noted, no one else in the top 100 that year has become an NFL superstar, except maybe Willis McGahee at #16.
There was no doubt he'd be a big star at USC. Carson Palmer was leaving for the NFL soon.
"It's a good situation at USC. I get to learn behind Carson Palmer for a few years and then I'll get my shot. I just want to make the most of my opportunity," Cassel said, back in 2000.
His freshman year, he threw only two passes, but ran for 22 yards.
Then... well. Then the career path got derailed. Paul Hackett, who was high on Cassel, was let go. Pete Carroll came in. Cassel backed up Palmer in 2002, throwing 4 passes, completing 3 for 27 yards. But the next season, Matt Leinart, not Cassel, got the starting nod. From then on, the kid with the golden arm didn't make one start at quarterback. His only start was.. very weirdly.. at tight end.
Cassel's junior year, he threw 13 passes. Senior year, he threw 14 passes and completed 10, for 97 yards and an interception.
Leinart took the reins and never looked back, becoming a 1st round draft pick of the Arizona Cardinals. Cassel was chosen in the 7th round by the Patriots, who were roundly criticized for being out of their minds. One respected sports magazine called their draft choices "bizarre."
This guy was high on Cassel
before it became popular. He goes as far as comparing him to Matt Hasselbeck, though the comparisons he offers are far from compelling.
All in all, what we have here is the story of a gifted athlete who was all set for big things-- but then missed out on his big break.
I hope it doesn't happen against the New York Jets.
One more picture of Bridget for good measure: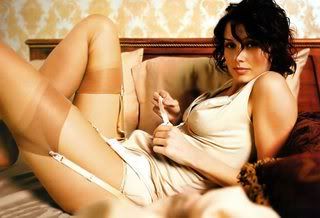 Let's Hope Her Baby Doesn't Inherit Brady's Weak Knees
------
P.S.
Curt Schilling's wrong.
New Yorkers don't take glee in Brady's injury. We take glee in Curt Schilling's injury. Cause he's an obnoxious jerk.