Facebook Introduces Social Network To Prisons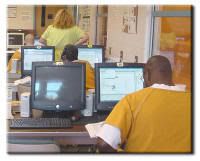 Prisoners Prepare Profiles For Facebook
BURLINGAME, Calif. - In a bold move to expand their share of the social networking marketplace, Facebook announced today it will open its doors to prison facilities nationwide.
Once the exclusive online stomping grounds of college students, social networking site Facebook.com threw open its doors last year to anyone with a valid email address. But while the site featured networks for colleges, high schools, workplaces and regions, it lacked any networks associated with the penal system. This left out the all-time high of 2.3 million Americans who spend their days behind bars. Starting today, prisoners will finally be able to gain access to the site, simply by affiliating themselves with their current place of incarceration.
"More than 1 in 100 American adults are in prison," said Mark Zuckerberg, the founder of Facebook.com. "It's high time we recognize that these people want to poke, play Scrabulous, and befriend random strangers too."
The company had planned to announce and launch this expanded registration last Tuesday but has delayed the expansion as it sorted through the backlash from changes it made to the site last month, including a feature which spies on its users by secretly activating their webcams.
"Last month, we learned we need to do a better job communicating on launches," says company spokeswoman Melanie Deitch. "We are going to think through how to better inform users, and we don't want to risk expanded registration being a big issue on the heels of last week's changes." Deitch said the company might send representatives to users' houses in coming weeks to explain the site's growth pace and new features.
The growth move is fraught with risk for the company, whose more than 9.3 million registered users are intensely attached to the site because it lets them connect to a select group of peers. If they fail, the company risks being viewed as a second-rate version of MySpace, the famously open social network that now receives more than 46 million visitors per month.
"I'm not so sure I like this idea," says Mary Contrari, a graduate student at the University of North Carolina at Chapel Hill's School of Information and Library Science, who studies Facebook's use among that university's students. "I don't want some criminal looking at my hot bikini photos from spring break, or knowing what music I like."
Prisoners, however, welcomed the idea.
"I plan on friend requesting every high schooler in Florida," says Gene Phallas, a convicted sex offender now serving time in Dade County Prison. "I want to become an educator, so I feel it could be a great way to reach out and touch my students."
Zuckerberg says he hopes the prison networks will help aid criminals in their rehabilitation.
"Think of all the possibilities. Instead of prison gangs fighting it out in the exercise yard, you can have an online battle between Ninjas and Pirates, one of our more popular Facebook applications," Zuckerberg said. "And inmates can deepen their relationships with one another by finding out they both love the movie
Scarface
, or enjoy listening to gangster rap."
Though members can customize their security settings to include or exclude specific people from seeing certain personal details--such as photos, contact information and comments left on friends' profiles--default settings allow anyone within a network to see everyone else's profile details. This has more than a few Facebook users concerned.
"What's stopping a criminal from joining a city network and posing as a college student?" asked Marissa Sharper, a sophomore at New York University. "I accept friend requests from everybody because I feel flattered that people like me. What if I accept a rapist by mistake?"
Even before the new networks, criminals joining Facebook under false names was a concern. Zuckerberg hopes the prison networks will help users like Marissa by making it clear who the criminals are.
"When you get a friend request from Rikers Island, you'll know it's someone who's been convicted of a crime," he says.
Not necessarily, according Matt Walters , head of the the Association of Prison Guards, who have been pushing Facebook for a network of their own.
"I have no choice but to join the New Jersey State Correctional Facility network, and if I do that, people I friend request will think I'm a criminal. They won't know that I'm actually a well-respected prison guard who's single and ready to mingle."
Ultimately, Facebook hopes the new networks will increase the site's value to advertisers. Facebook still has less than half the users MySpace had when News Corp. bought the company last year, and revenues are still small--an estimated $30 million a year compared with MySpace's roughly $180 million--says eMarketer senior analyst Debra Williamson.
"Facebook doesn't have that sexy glow as an advertising environment, as compared with MySpace's advertising buzz," says Williamson. "But the addition of convicts to the networking pool could create opportunities for advertising bail bond companies and legal firms."
This year, U.S. advertisers will spend only $280 million on ads through social networks, according to eMarketer, but that will increase to $1.9 billion by 2010. Worldwide, that figure will reach $2.5 billion. Those numbers, coupled with the continued success of MySpace after News Corp.'s acquisition last year, have fueled rumors that Facebook is a likely acquisition target.
"The $2 billion price tag reported in the media is so far out there," Zuckerberg said during an Aug. 17 interview. Zuckerberg, who admitted on a company blog that Facebook "really messed up" the launch of news feeds and spy cameras, wouldn't take interview requests about the delays in expanding convict registration. "We're not holding out for a price because we're busy building and growing the site."
Those plans for the future include an Olympic-size swimming pool in his backyard, and creating an army of cloned supermodels to wait hand and foot on Zuckerberg at the Facebook corporate offices. Zuckerberg is confident these new "Facebook features" will help his site become better than ever.
"We hope to get all these things done by next April Fools Day."
-------
PLUS:
Previously On...