Rudolph The Steroid-Abusing Reindeer
Just in time for the holiday season, Major League Baseball is getting a gift it didn't want-- the results of George Mitchell's steroid invesigation.
Rumors put the number of players named
as high as 80
. At least one person has said the list of steroid-abusing players will include "Landscape-changing names... Names that will
change the way we look at the sport
."
Deadspin.com published
an unofficial list of players
named in the report. We won't know for sure who's on it until 2:01 PM today, when the report is released.
But some of the names stand out. Bary Bonds and Mark McGwire, we already knew. But Roger Clemens? Andy Pettite? Albert Pujols? Pudge? Mo Vaughn? These guys are legends of the game. Roger holds several pitching records. All five are future Hall-Of-Famers.
Aaron Boone is a disturbing name to see there as well. His walk-off homer against the Red Sox in the Division Series is one of Yankee baseball's proudest moments. But was Boone on the juice when it happened?
Suddenly we have to ask ourselves... was Matt Williams pursuit of the home run record in the strike-shortened season a result of some needles? Was Paul Byrd's brilliant shutdown of the Yankees this year due to some extra testosterone? Was John Rocker's famous temper inflamed by roid rage?
How many asterisks do we have to put on this game?
Adam's Life Presents: Rudolph The Red-Nosed Reindeer (modern version)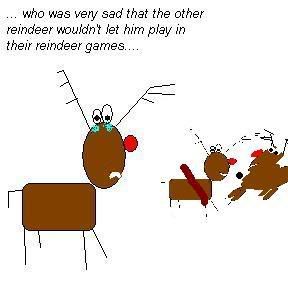 UPDATE: The real list of players. Aaron Boone, you're off the hook. So are you, Albert Pujols and Pudge.
Lenny Dykstra, David Segui, Larry Bigbie, Brian Roberts, Jack Cust, Tim Laker, Josias Manzanillo, Todd Hundley, Mark Carreon, Hal Morris, Matt Franco, Rondell White, Roger Clemens, Andy Pettitte, Chuck Knoblauch, Jason Grimsley, Gregg Zaun, David Justice, F.P. Santangelo, Glenallen Hill, Mo Vaughn, Denny Neagle, Ron Villone, Ryan Franklin, Chris Donnels, Todd Williams, Phil Hiatt, Todd Pratt, Kevin Young, Mike Lansing, Cody McKay, Kent Mercker, Adam Piatt, Miguel Tejada, Jason Christiansen, Mike Stanton, Stephen Randolph, Jerry Hairston, Paul Lo Duca, Adam Riggs, Bart Miadich, Fernando Vina, Kevin Brown, Eric Gagne, Mike Bell, Matt Herges, Gary Bennett, Jr., Jim Parque, Brendan Donnelly, Chad Allen, Jeff Williams, Howie Clark, Nook Logan, Rick Ankiel, Paul Byrd, Jay Gibbons, Troy Glaus, Jose Guillen, Jerry Hairston, Jr., Gary Matthews, Jr., Scott Schoeneweis, David Bell, Jose Canseco, Jason Grimsley, Darren Holmes, John Rocker, Ismael Valdez, Matt Williams, and Steve Woodard.