Rush Goes Racial... Again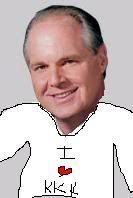 Rush, Wearing His Favorite T-Shirt
"I think what we've had here is a little social concern in the NFL. The media has been very desirous that a black quarterback do well. There is a little hope invested in McNabb, and he got a lot of credit for the performance of this team that he didn't deserve."
-Rush Limbaugh,
November 28, 2005
"I've got to get something off my chest... I can't handle any more press criticism of Rex Grossman. They're writing his name W-R-E-C-K-S. They're just ... worst quarterback ever to play in the Super Bowl... And I tell you, I know what it is. The media, the sports media, has got social concerns that they are first and foremost interested in, and they're dumping on this guy -- Rex Grossman -- for one reason, folks, and that's because he is a white quarterback."
-Rush Limbaugh,
February 5, 2007
Um... perhaps Rush should check out this Rex Grossman tribute, posted on YouTube:
White or black, it doesn't matter. Rex Grossman is terrible. Maybe one day he'll get his act together, but as of right now, the Bears are winning DESPITE Grossman, not because of him. In the final weeks of the season, Rex had two games with a combined QB rating of 1.5. 1.5!!!!
On a scale from 0 - 158.3!!!
With Home Field Advantage on the line!
Plus... HE THREW AWAY THE SUPERBOWL!! Down by five, the Bears still had a chance (despite Grossman's previous fumbles). But Rex threw two ugly looking interceptions, ending the game.
Rush, baby, what's race got to do with it?