When 14-Year-Olds Attack
So Saturday I went to the
The Bamboozle
with my roommate, a high-powered music executive, who got the tickets for free. The headliners were Fall Out Boy and All American Rejects, not exactly my favorite groups. But hey, a free concert? I'm not gonna pass that up.
I've never been surrounded by so many 14-year-olds with pierced nipples and tattoos in my entire life.
Am I getting too old to go to concerts? At times, I felt like maybe so. A bunch of kids were throwing gatorade and water bottles into the crowd, hitting people in the head. I found myself holding back from saying "hey kids, knock it off."
The thing is, I used to be one of those kids. Moshing in the pits and coming home with bruises. I never pierced my nipples or got a tattoo, but I did once own a chain wallet and baggy shorts.
On Saturday, I wasn't moshing. I was pissed off because I stepped in mustard and got it on my shoe. And I felt like saying, "Hey, you with the hot dog. THERES A TRASH CAN RIGHT THERE!!!"
Instead I drowned myself in $6.75 beers. A few of which I got for free by helping some of the other older kids skirt the one beer at a time limit.
I got to see Minus The Bear, which I'm sort of familiar with, and
Liam and Me
, who are apparently being pursued by several major labels and may be THE NEXT BIG THING. I also caught a bit of the Relient K act (those christians can rock) and, as I was leaving, heard the All American Rejects. As luck would have it, I was almost to the racetrak when they started playing. Why luck? Well, lets just say you do not want to be in the center of the sonic boom unleashed by a thousand simultaneously screaming 14-year-old girls. Unless, you're R. Kelly. When the Rejects came on stage, the screams were so loud my upstairs neighbors in Stuyvesant Town called in a noise complaint. I think the seagulls that hang out in the Giants Stadium parking lot won't be coming back for a while.
Anyway, here's some choice pictures from the show/Meadowlands.
Minus The Bear:
Beach Balls In Flight:
Liam and Me:
Stampede Of The 14-Year-Olds: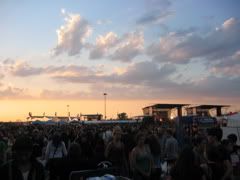 Such A Pretty Toxic Swamp: