The Big Smoke
No, the Marriot Marquis in Times Square was not on fire.
Yes, there was a fireman there, looking slightly dazed. And yes, it was hard to see much of the sixth floor through the thick cloud that hung like a veil from the choking florescent lights. But fires don't attract a group of leatherfaced middle aged men in suits. Only
The Big Smoke
does.
Since 1993, more than 250,000 thousand cigar-loving lugs have gathered together in New York City to sample some of the world's best stogies, scotches and rums while dining on tender cuts of Del Friscos steak and oggling scantily-clad women puffing on Monica Lewinsky's signature smoke.
The event was the brainchild of
Cigar Aficionado
editor and publisher Marvin Shanken, in the days before smoking became a nasty six letter word in many locales:
B-a-n-n-e-d
.
Mayor Rudy however, carved out an exemption in the smoking ban, specifically allowing smoking at tobacco-industry events. Hence, the surreal sight of the Marriot Marquis's sixth floor, obscured in a dreamy, toxic haze.
I went there with my Uncle and my Dad, not quite knowing what to expect. For some reason, I pictured a dark, swank nightclub, like the ones you see in the movies, red-velvet lined booths and a sultry singer on top of a grand piano. Maybe some girls walking around with those trays of cigars. Instead, it was really a trade show... with booze and smokes. The girls were trayless... but fortunately, mostly naked. One of them gave me a temporary tattoo:
If you can't tell by now... I did not bring my camera to the event.
But this should give you some idea:
While most of the crowd would make Tony Soprano feel right at home, it was a surprisingly diverse bunch. Of guys. There was one group of five girls I saw, who was clearly in "defense mode." You know what I mean. Like if a guy started talking to them, he would be immediately kicked in the balls by five shoes at once. I did, however, lift one woman onto my shoulders to help her get a better shot of the stogie-sluts. Cause I'm helpful. Yes, I was sufficiently drunk and stoned at this point.
I'm sorry, not stoned, "buzzed."
Everyone receives a coupon book, which you take from vendor to vendor, getting free cigars, and making jokes to the hot women handing them out. Jokes they won't laugh at. But they will smile.
I got about thirty cigars, including one from "Kahlua." I asked the vendor if it tasted like coffee. My uncle responded, "it tastes like crap."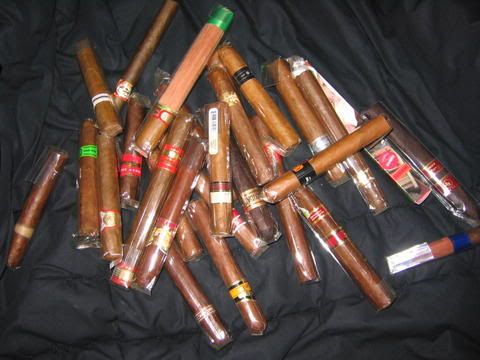 My uncle did teach me some things about cigars. Which I would have remembered if it hadn't been for the several glasses of scotch, wine and tequila. But as I understood it, the best cigars were from the Dominican Republic, then Honduras, then Guatemala. And Brazil was breaking into the action.
Some of the cigars boasted "Connecticut Wrappers," which I found very odd. The Dominican, Honduras.... Connecticut? What did it mean? Were the Hondurans hiring Yale grads to wrap cigars? Were they sending the cigars to New Haven to be gift-wrapped? Or were the little labels wrapping the cigars printed on a press in Mystic?
Turns out, I was way off. "Connecticut Wrapped" means that the outer leaf, or "wrapper" of the cigar was grown in the Construction State.. I mean Constitution State. Their leaves have a black, oily appearence, probably due to the fact that the Northeast is polluted as shit.
Who knew?
To add to the confusion, some people call "Connecticut Wrapped" Cigars, "Spanish Market Selection," obstensibly because they hate America. Those commie bastards.
I got this information from
Wikipedia
, by the way. Which also provides this tidbit:
According to Pierre Salinger, then [John F.] Kennedy's press secretary, the president ordered him on the evening of February 6 to obtain a thousand Petit H. Upmanns Cuban cigars; upon Salinger's arrival with the cigars the following morning, Kennedy signed the executive order which put the embargo [of Cuba] into effect
JFK! That Rapscallion!
But I digress (a lot). The Big Smoke was fun, and I even enjoyed the two cigars I smoked while there. Now I have 28 cigars, hanging out in an old plastic twizzlers container, along with a wet sponge. Who knows if this will work as a humidor. (I think I just heard the sound of a thousand cigar-lovers screaming "nooooooooo!")
Anybody like cigars? Anybody want one? Shoot me a comment and I'll see what I can do.